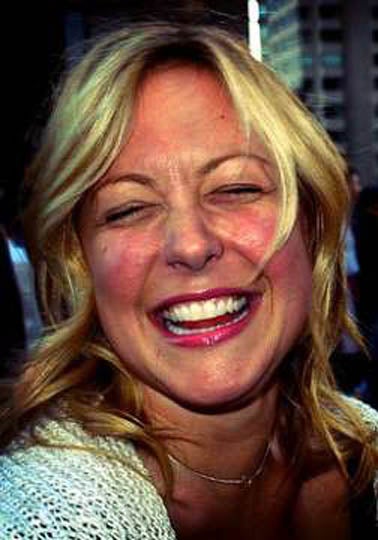 1. Brooke Hammerling
Brew Media Relations
Brooke runs her own agency, with what would mostly be considered B-list clients [See update below]. Yet she's so influential that when she hosts her legendary annual dinner at CES, the likes of Walt Mossberg sit at her table. Getting the biggest names in tech journalism together is big. But the way you can really tell Brooke is a power player? She makes them pay for themselves.
UPDATE: Brooke wrote me to complain that her clients, which include GroupMe, General Assembly, Zong, NetSuite and Larry Ellison, One Kings Lane, Bluefin Labs, GetGlue and more, are not B-List. This is why you're on top of our list, Brooke.
2. Katie Cotton
Apple
Katie is Steve Jobs' enforcer. If you want to talk to Steve, you have to go through Katie. She's the kind of publicist who can kill a story in the most powerful publications in the world by picking up the phone. Unless it's us. But of course, we're not big enough to ever bother anybody. Right Katie?
3. Jill Hazelbaker
Google
What's Google? A search company? Is it in the OS business? A software developer? It's so big and working so many angles at once, it's no wonder it has the occasional regulatory hassle. Which is where Jill (on the left) comes in. Before she was Google's communications boss, she ran communications for McCain '08 and media strategy for Mike Bloomberg's re-election bid. She brims with political clout.
Photo credit Charles Dharapak, AP
4. Frank Shaw
Microsoft
Frank is refreshing. In a field choked with obsequious glad-handing suckbunnies, he throws gut punches. Like this tweet aimed at search rival Google. The pugnaciousness is smart: it gets his message in every tech outlet acrss the globe.
5. Marjorie Costello
Consumer Electronics Association Consumer Electronics Online News
Technically, Marjorie is not a PR pro. She's the publisher of Consumer Electronics Online News. But she also basically runs the show at CES. Marjorie controls who gets what kind of access. Need an interview with a high-ranking executive at the show? The so-called "queen of CES" can get it for you. Unless you cross her.
6. Randi Zuckerberg
Facebook
OMG! Don't you just love Randi? She's flying in and we're all driving up to Montauk to hang with Julia and Caroline! Beach party! She's so sweet! How could we ever say anything nasty about Facebook? Even if it is creepy and horrible! Oh, wait. Forget that last part. I don't want my body found floating off the coast of Montauk.
7. Bill Wohl
HP
Bill jumped ship from SAP to join HP this year. (Or more accurately, he followed Léo Apotheker, who was at SAP before taking on HP's CEO role). Bill is the guy charged with putting a public face on HPs new strategy and vision, and cleaning up the reputation fiasco of spying scandals, crap products, and puzzling purchases from the previous regime. And you know what? He's doing it.
8. Natalie Kerris
Apple
How powerful is Apple PR? They get two in our top ten. While Katie grants access to Steve, Nat is the invisible hand (we couldn't even find a photo) who gets you early access to products for review. Or in our case, not. Love you, Nat! Call us? (Seriously. Call us. Or email.)
9. Steve Swasey
Netflix
Steve is the rare cold drink of water who feels secure enough to occasionally say things like "we blew it" in public. When the company hit its pricing conflagration this year, Swasey was sent out to try to put out the fires, pushing back hard and comparing the new prices to single lattés in the pages of the New York Times.
10. Patrick Seybold
Sony
Sony's Playstation Network hack was a fiasco, and the company's executive management handled it poorly. Patrick had to put a pretty face on that hideous mug, and he spun hard enough to keep the company from going into public opinion freefall. Don't believe me? Click this.