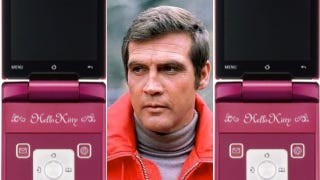 Why is there a mid-grade Android flip phone on a site full of brazen iPhone fanboys? (Yeah, we admit it. What. WHAT.) It's not the first Android flip phone. It's not the first Hello Kitty phone. It's not even very desirable.
But it's way better than an iPhone. Whaaaaaaaaat?
This is the SoftBank 007SH KT. Unless you live in Japan, you can't buy one. It has a 16-megapixel camera. Whatever. It has a 3.4-inch touchscreen. Who cares. It has a TV tun—zzzzzzzzzzzzz
Oh, sorry, I fell asleep there for a minute. What were we talking about there? Oh yeah, how this stupid flipper is probably way better than your phone. Why? It's waterproof*. All phones should be waterproof.