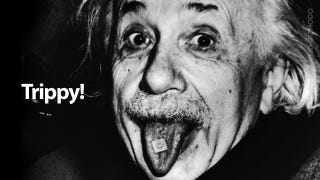 This is extremely shocking: CERN scientists using a 1300-ton particle detector have measured particles travelling faster than the speed of light. If confirmed, this discovery could invalidate Albert Einstein's 1905 theory of special relativity and revolutionize physics.
Einstein's theory says that there's nothing in the universe that could travel faster than light. Now, CERN scientists believe this may be wrong according to their latest experiment.
The 3-year experiment timed about 16,000 neutrino packets launched from CERN facilities in Geneva, travelling through Earth and arriving 2.43 milliseconds later to the subterranean facilities of Italy's Gran Sasso National Laboratory. There, the Oscillation Project with Emulsion-tRacking Apparatus (the OPERA particle detector) recorded the hits.
When scientists discovered that the particles were arriving 60 nanoseconds faster than the speed of light—with only a 10 nanosecond error margin—they freaked out. I don't blame them. Imagine someone comes to you to tell you that a new observation shows that planet Earth is actually flat.