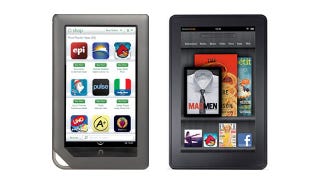 We've just gotten a look Barnes and Noble's new 7-inch Nook Tablet, and surprise! It's very similar to Amazon's Kindle Fire. But the differences that do exist—in specs, price, and usability—are telling. Here's how it all breaks down.
Let's start with looks: the two both have 7-inch IPS displays, although the Nook Tablet is a little longer and lighter than the Kindle Fire. It also retains that odd carabiner-friendly rung in the lower right-hand corner, which, fine. The .5 ounce weight difference isn't much, but given that both tablets are already so much heavier than their E-ink ebook reader counterparts, every little bit may count over marathon reading sessions.
The wider gaps are on the inside; the Nook Tablet sports 16GB of storage and 1GB of RAM, compared to 8GB of storage compared 512MB of RAM on the Kindle Fire. And when you compare the two on specs alone, it's no small temptation to think that Amazon is outclassed. Amazon, though, holds most of your goodies in its cloud for you. That's potentially inconvenient for long, Wi-Fi-less trips, but the gap should be immaterial around the house, etc.
As for RAM, that can be a bit misleading as well; the iPad 2 and iPhone 4S seem to get along just fine with 512MB, while there are 1GB Android phones and tablets that can get burpy. What we can go on, though, is our hands-on impressions of the two tablets.
In action today, the Nook Tablet's performance wasn't entirely promising. The custom built UI was noticeably sluggish, as was the web browser. On the plus side, the media apps ran smoothly. Our first look at the Kindle FIre, on the other hand, revealed shockingly fast and fluid performance even though it's got weaker specs on paper. The Amazon Kindle appears to be built on cheaper hardware but incorporates technologies like Amazon's Silk web browser to help the product run like a much stronger machine. We just don't know if Barnes and Noble found clever ways to optimize its device as well, although, Representatives did mention to us that the pre-loaded media apps ran beautifully because the Nook Tablet had been fine-tuned for flash video playback. We'll have to wait until the products are available for a full test to know for sure if these impressions are true.