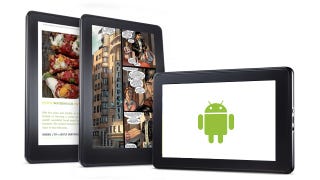 In a move that should surprise absolutely no one, the Android faithful have achieved root access to the Kindle Fire though a simple, one-click process, opening the doors to mucho customization. But just because you can, should you?
Having root access to a device means that its software can be removed and replaced with something else (like a full version of Android). Or you could install a slightly tweaked version of the Kindle's software (once the developer community starts releasing them; counting down...), which could give added functionality or speed. Or you could just leave the tablet as is—but install some additional applications you wouldn't have access to through Amazon's curated apps offerings.
The world could be your oyster, but let's look at the pros and cons, depending on your needs.
If you got the Kindle Fire because of its simplicity...
...then you should probably just leave it as is; you're not going to have to think about it. You'll get Amazon's software updates when they come, and you're not going to have to mess with various install procedures. Plus, if you don't know what you're doing, there's a chance that you could brick your Fire during the root process and turn your shiny new tablet into a $200 coaster. It's unlikely, but it happens. If you like it simple, keep it simple.
If you got the Kindle Fire because it's a cheap Android tablet...
...then yeah, as long as you've got a bit of computer savvy and are willing to learn how this goes, this is what you've been waiting for. I mean, hell, when comparably spec'd Android tablets are going for twice as much, this is a no-brainer. But you might want to hold off a little. Honeycomb (Android 3.x) is all right, but Ice Cream Sandwich (Android 4.0) looks much, much better. If you root your Fire and install Honeycomb, and then want to install Ice Cream Sandwich later (which you will, as soon as it's available), you're going to have to wipe your system to upgrade, meaning you'll have to reinstall everything, which is kind of a pain in the ass. Patience, grasshopper.