In a move that should surprise absolutely no one, the Android faithful have achieved root access to the Kindle Fire though a simple, one-click process, opening the doors to mucho customization. But just because you can, should you?
Having root access to a device means that its software can be removed and replaced with something else (like a full version of Android). Or you could install a slightly tweaked version of the Kindle's software (once the developer community starts releasing them; counting down...), which could give added functionality or speed. Or you could just leave the tablet as is—but install some additional applications you wouldn't have access to through Amazon's curated apps offerings.
The world could be your oyster, but let's look at the pros and cons, depending on your needs.
If you got the Kindle Fire because of its simplicity...
...then you should probably just leave it as is; you're not going to have to think about it. You'll get Amazon's software updates when they come, and you're not going to have to mess with various install procedures. Plus, if you don't know what you're doing, there's a chance that you could brick your Fire during the root process and turn your shiny new tablet into a $200 coaster. It's unlikely, but it happens. If you like it simple, keep it simple.
If you got the Kindle Fire because it's a cheap Android tablet...
...then yeah, as long as you've got a bit of computer savvy and are willing to learn how this goes, this is what you've been waiting for. I mean, hell, when comparably spec'd Android tablets are going for twice as much, this is a no-brainer. But you might want to hold off a little. Honeycomb (Android 3.x) is all right, but Ice Cream Sandwich (Android 4.0) looks much, much better. If you root your Fire and install Honeycomb, and then want to install Ice Cream Sandwich later (which you will, as soon as it's available), you're going to have to wipe your system to upgrade, meaning you'll have to reinstall everything, which is kind of a pain in the ass. Patience, grasshopper.
G/O Media may get a commission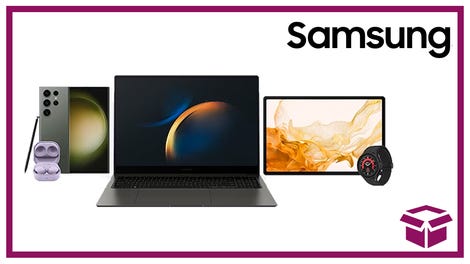 24 hour deals
Discover Samsung - Daily Deal
If you love your Kindle Fire, but just wanna tweak it a little...
...then yes, again, with the caveats that you need some tech-smarts and are willing to potentially turn your Fire into a useless mound of plastic. Theoretically, rooting means you should be able to install the full suite of Google applications—Gmail, Google Calendar, Google Docs, all that jazz—and any other application you can download from the internet. Amazon's App Store is curated, which is fine—it's probably more secure than the Android Market—but there's a lot of good stuff missing (read: those Google apps). The Gmail client for Android is fantastic. You'll also be able to install custom kernels for overclocking/underclocking your tablet's processor, goosing your clock speed or boosting battery life. Much more customization to follow, as well.
Ultimately, the decision rests with you, but the already super popular Kindle Fire just got even more compelling for a whole new list of people.
You can get the full instructions on rooting your Fire here, and rest assured that more goodies will be coming soon. The biggest caveat: Unless you're experienced, it's probably best to wait. There isn't much incentive just yet (no ROMs, etc) and the rooting process will only get easier and safer.
And when it does? It'll be awfully tempting to turn your Fire into an outright inferno. [Android Forums via The Next Web]
---
You can keep up with Brent Rose, the author of this post, on Facebook, Google+ or Twitter.