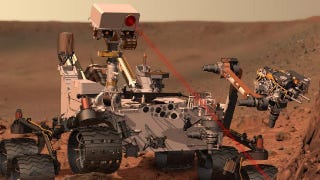 On Saturday, the next Mars rover will start its journey to the red planet. Only this time, NASA is sending something the size of a car. How the hell?
In the past, the rovers that NASA has sent to Mars have been fairly small. Sojourner, the first, was 65cm long and weighed 10kg. The next two, Spirit and Opportunity, were a little bigger: they were both 1.6 meters long and weighed 170kg.
But on Saturday 26 November, a new rover called Curiosity is going to be sent Mars-wards. And this plutonium-powered guy is pretty substantial. Curiosity weighs in at 900kg, and is 3 meters long. "It's the size of a Mini Cooper with the wheelbase of a Humvee," is how project scientist John Grotzinger described the new rover to the BBC. That's pretty big.