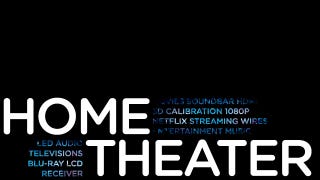 We're installing a tricked out entertainment system in Gizmodo Gallery. Why? 1) Because we can. 2) Because we want to watch movies instead of working. 3) Because we want to help you build one of your own.
For some people these days, a home entertainment system isn't much more than a MacBook streaming Netflix movies, and this makes us sad. While there's no gear in the world that can make Spiderman 3 unsuck, when it comes to classics like Terminator 2, you want that motorcycle to growl like thunder. There's no shame in working with what you have—but you can do better.
Our home theater? It starts with an 80" LED TV, wired with some of our favorite gear from the likes of Polk Audio, Pioneer, Onkyo, Yamaha and more. It's gonna be hooked up. It's gonna be loud loud. And we're gonna show you how to make one to match whatever your budget (and living room square footage).
On Thursday December 8th, at 6pm, we're going to do a big home theater how-to and demo session that goes over everything you need to know to maximize the audio-visual impact of the gear and green at your disposal. Of course we're going to show you what we built—we can't help ourselves!—but we're also going to cover options for everyone from broke gamers to sports fans to people with think Blu-rays live in corral reefs.
And even if you already know what you're doing, we still hope you'll come down and hang out. We're totally sure you guys have bundles of expertise you'd like to share with your fellow readers. Heck, you might even teach a Giz writer a thing or two.
Gizmodo Gallery 2011 @ White Box
329 Broome Street. New York, NY, 10002
Monday, December 5th
Press Day, Press Only
Inquiries to media@gizmodo.com
Tuesday, December 6th
12noon – 5pm
All Day Special Event: World's Largest Multi-Touch LCD
Party: Opening Party Invite Only 7pm - 10pm