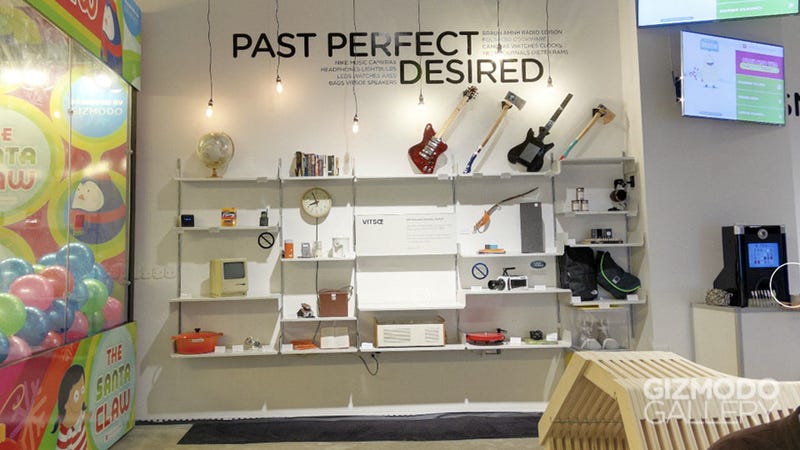 Technology is beautiful. Products aren't just tools. They provoke your emotions. You all know this feeling. Sometimes a product beckons you. it speaks to the most carnal yearnings in your heart. You want it. Not because you need it, or because it's expensive. Not even because it's necessarily the best at whatever it's supposed to do. It speaks to you because of who you are as a person. It's #desired.
Best Made Axe
When Best Made started making these babies the art of axe-making was all but dead in the United States. But the American Felling Axe isn't just a decorative touch of nostalgia for your mantle; it's a real tool with a four- pound high-carbon steel head and a 35-inch hickory handle. Kick axe.
Gibson Firebird X
The Firebird X takes a classic Gibson guitar design and loads it with an onboard effects rack. This allows you to dial in your sound to everything from phased-out Eddie Van Halen tone to nu-metal crunch without ever stomping down on a pedal. The effects are controlled by two selectors on the guitar's body and faders on the the guitar's top. Get ready to get your face melted off.
Audeze Lcd-3
The brand-new LCD-3's are the latest act of spectacular audio geekery from Audeze. The LCD-3s have guts unlike almost any other pair of cans out there. Designed to be used by professionals to perfectly reproduce recordings, they're stocked with extremely accurate planar magnetic drivers and super-thin diaphragms. Oh, and they've got nice soft lambskin ear pads.
Well Rounded Sound Yorkie
We're honored that the Queens-based speaker-smiths behind Well Rounded Sound loaned us the very first possible production unit of the Yorkie. We love that they look as cute as their name would imply, but don't let that fuzzy exterior fool you: These are some mean sounding puppies specially designed to sit on your desktop.
Pantone Messenger Bag By Rickshaw
Designers love to splash Pantone's proprietary hues all over whatever product they can think of, and we'd be lying if we said we didn't covet every last one like we'd never heard the idea before. In this case, though, we'd want the Rickshaw messenger bag even if wasn't colored so darn pretty.
Branch Holder
Little kids will turn pretty much anything into a weapon if given the chance and some imagination—so why not us, too? Naama Agassi's Branch Holder keeps the dream alive by transforming any ordinary piece of woodland refuse into a (non) deadly slicing instrument. It's wonderfully simple, and will allow you to finally dominate the playground, decades later.
Misa Digital Instruments Kitara
We could sit around and have a semantic argument about what actually constitutes a guitar in its platonic ideal for hours, but let's put an end to that right now. Strictly speaking, the Misa Instruments Kitara isn't a guitar. It's a "digital guitar"—and even that's a conceptual stretch. Let's face it, this thing is a MIDI controller. It doesn't have frets or strings. Soundwaves don't resonate through its plastic body. There's nothing analog about the damn thing. And yet for all its buttons and USB cables and software and its multi-touch screen the Kitara is an instrument through and through. Even more, it's one of the most interesting guitar-based innovations to roll out in decades.
Vision Research Phantom V711
Why would you want a high-speed camera that can shoot video at more than 1 million frames per second? (Well, 1,400,000 fps to be precise.) Slow almost anything shot at that frame rate to 30 fps and you're left with hours and hours of S-U-P-E-R-S-L-O-W-M-O-T-I-O-N boredom. On the other hand, if you're dying to know the intimate secrets buried within the nearly instantaneous violence of a powerful explosion, the Phantom v711 is your boy.
Nike MAG
The mythical shoe that originally captured the imagination of audiences in Back To The Future was recently released to help create a future without Parkinson's disease. Nike auctioned 1510 pairs raising 9.4 million, with all net proceeds going to the Michael J. Fox Foundation for Parkinson's research. The 2011 Nike Mag was designed to be a precise replica of the original worn by Marty McFly, played by Michael J. Fox, in the year 2015. The aesthetic is an exact match down to the contours, a glowing LED panel and electroluminescent Nike strap.