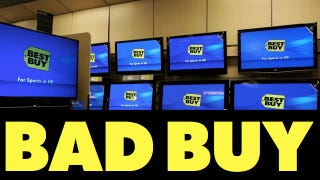 Best Buy is completely dropping the ball this holiday season. We're hearing reports that customers who bought items on BestBuy.com on Black Friday (yes, nearly a month ago) will not be receiving their orders this year, with some of them even being cancelled right before Christmas. Congratulations Best Buy! You are the Grinch.
Best Buy's official statement on the matter, as relayed to FOX 9 is this:
"Due to overwhelming demand of hot product offerings on BestBuy.com during the November and December time period, we have encountered a situation that has affected redemption of some of our customers' online orders. We are very sorry for the inconvenience this has caused and we have notified the affected customers."
That's not good enough. This wasn't some one-off mistake on a slow April day either, this was Black Friday! Their biggest day of the year, the Super Bowl of retail, the unofficial holiday for shopping. You can't mess up then. Especially if you're Best Buy. As a big box retailer, people camp out at your store a week in advance to participate in your Black Friday sales. They may be crazy but it's a clear show of faith that they trust Best Buy.