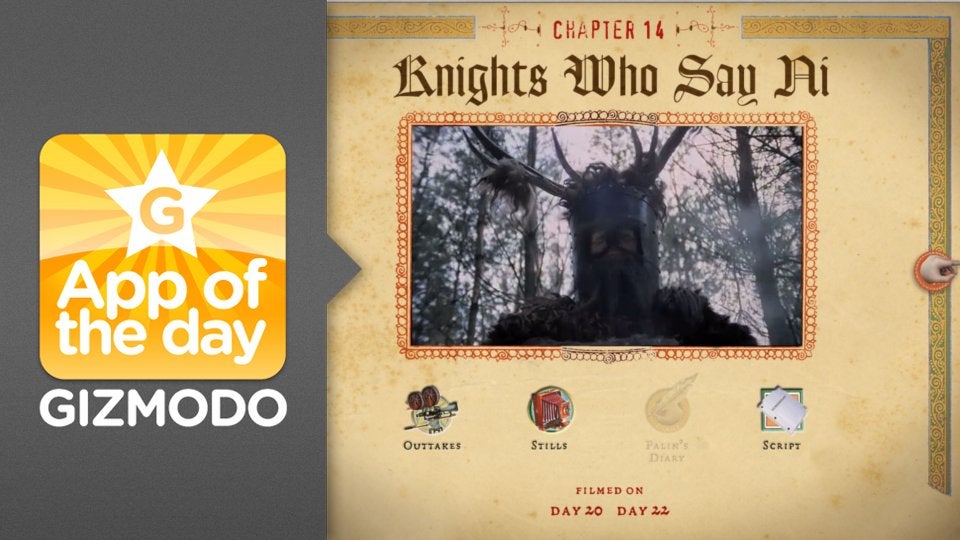 S
You know at least one person who can recite all the lines to The Holy Grail. You He can't get enough Monty Python. His need is so great that watching the newly released Blu-ray isn't enough—he needs simultaneous, synced Monty Python on his TV and his iPad
Monty Python: The Holy Book of Days is an expanded iPad version of the behind-the-scenes bonus features you usually find on a DVD. As you'd expect, the app has loads of exclusive content including outtakes from the original shoot, rehearsals, and even songs you haven't heard before. Even better, it's all arranged like a book chronicling the 28 days it took to actually shoot the film with details like props, histories, diary entries, Terry Gilliam's storyboards, and more, all rendered in a fun, faux-medieval aesthetic. And if you've got the Blu-ray disc, the app will sync over Wi-Fi with the movie while you watch it and display relevant extras on your iPad.
Until Ricky Gervais showed up Monty Python was the funniest—possibly the only funny— thing to ever come out of England. Seventy more minutes of Monty Python is indisputably worth it for fans. At $5, it's a steal. [ZDNet]

S
Frames
Download this app for:
The Best
New gags
The Worst
Want moar!