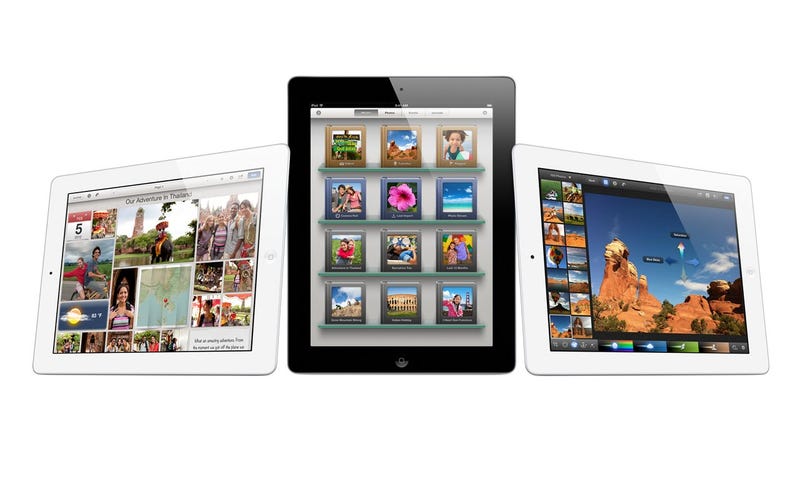 To take advantage of its fancy new retina display, higher res camera, and boosted processor, the iWork and iLife apps for iOS have all been updated today. And since that new display will make working with photos a treat, Apple also introduced an iOS version of iPhoto.
While they weren't demo'd at today's event, the iWork apps, including Pages, Numbers, and Keynote, have all been updated to take advantage of the new iPad's high-res display, and will continue to sell for $10 each with free updates.
Garage Band now has something called Smart Strings, a touch-friendly chorded instrument, and a note editor with heavy integration to iCloud allowing you to save your creations to the cloud and easily share them.
The app has also gained the ability for up to three musicians to collaborate and play with other musicians in real-time over a wireless connection, which should make for some heart-tugging videos at Apple's next event. The update is available now, and the app is still $5 if you haven't started rocking out yet.
iMovie will also take advantage of the new iPad's ability to finally record videos in 1080P. In addition to being able to automatically generate trailers, filmmakers will be able to mock up and plan out storyboards before they start shooting.
But, you should be warned, if you haven't been a fan of Apple's recent UI adventures which make everything look like a pocket day-planner, you might be disappointed by iMovie's gratuitous use of binder rings when flipping through your storyboards. I mean isn't this the same company that makes the profesional-looking Final Cut Pro? You can also download the iMovie update today, or buy the app for $5.
And as Jesus eerily predicted almost a year ago, today Apple also introduced iPhoto for iOS, available for both the iPad and the iPhone. Like Garage Band and iMovie it's just $5, available today, and it gives you a more capable replacement for the standard iOS Photos app.