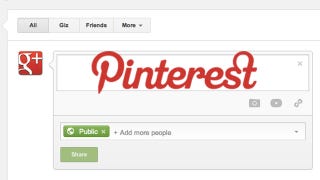 It's no secret that Google desperately wants Google+ to be the cornerstone of how you use the internet. The problem? No one's taking the bait. It might be time for something drastic. Something like backing up several truckloads of cash to buy Pinterest, a social network crammed full of 10 million people who actually want to be there.
Yes, Google+ has 170 million users. But how many of them actually use it is another matter entirely. The social network's Circle-centric design works too well for its own good; it's easy to keep private stuff private on Google+, which makes everyone act like information hermits, leaving newcomers with a ghost town. Pinterest could solve that. It could make Google+ fun.
It'd Be Good for You...
The problem with Google+ has never been design. Selective sharing actually makes for a very smart floorplan, made all the prettier by this week's overhaul. But Google+ is like a house with a bunch of rooms and ample wall space but no one around to decorate. And what furnishings are there—the links that get shared—made the rounds on Twitter twenty minutes ago.