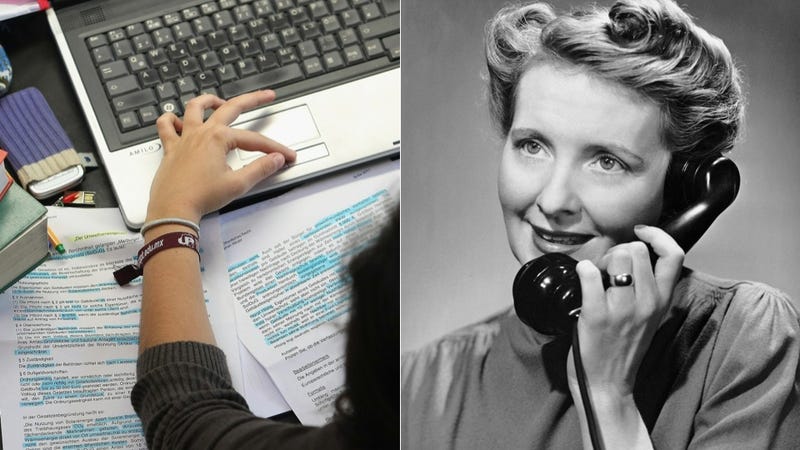 Your mom will always love you, and you'll always love your mom, but now that moms are comfortably geeky, maternal interactions can get weird and frustrating very quickly. How do we manage? You need a plan—especially with Mother's day coming so soon. This is it.
Your mom wants to text you. Your mom wants to look at your pictures. Your mom wants to ask you for cool new tunes. Your mom wants to hug you through a computer—but that's impossible, mom! Your mom's computer and router and everything between will be caught in a inexorable rush of faulty configuration and misunderstanding. But she's your mom. We know you're busy, but some stuff you can't shirk. Be patient and be kind to her. Here's where you start:
Tech Support
Being forced out of your mother's vaginal cavity entitles her to a lifetime of technical support, whenever she wants it, forever. No exceptions. Sorry, it's just the way it is—and no c-section loophole either, I'm afraid. She trucked you around for nine months, and now the least you can do is help her reset the router back home. But how?
Never, ever, ever use the phone. No, never. We all know that fixing a computer headache is tricky enough when you're sitting down at the computer. But over the phone? Forget about it. The process of a mom fathoming what's happening on her screen, putting that into non-mom terms, and you then giving her mom-edible instructions in return is just too much. Think of the scene in which Samuel L. Jackson is trying to direct Laura Dern to switch the power back on in Jurassic Park, only there are a hundred more raptors, Laura Dern still can't touch type, and Jurassic Park is a five year old Dell.
You need to give mom some visuals. If you can't fix her router/phone/laptop/router again in person, you should swap screenshots. Ask her to email you pictures of what's happening on her screen, then annotate the fixes with a program like Skitch and send them back to her. Kaboom—no need to try explaining what an IP address is to your mother, which would have resulted in her frustrated and you clawing your hair out and weeping blood.
Facebook
Oh, this is never easy. Pulling back your burqa of privacy to reveal a whole Facebook Timeline's worth of crass status updates and drunk faces to the woman who spent nearly two decades trying to teach you better.
But this actually isn't as tricky as it looks! First, accept your mom's friend request, because it's truly benign. She just wants to feel closer to you, and knows Facebook is her best shot. Give it to her. Why?
You won't have to be nagged about sending pictures. They're all on Facebook!
You won't be asked "what ever happened to so-and-so from middle school?" as much, because she can just stalk them on your wall.
You won't get as many endearingly annoying chain emails and superfluous links, because they can just go to the URL landfill of your wall.
Etc. It's a timesaver. Your profile stands in for the real you. A buffer against smothering.
And if there's anything you don't want mother to see, just make her a Facebook acquaintance and parent-proof your profile. Just because you love someone doesn't mean you can't internet blacklist them.