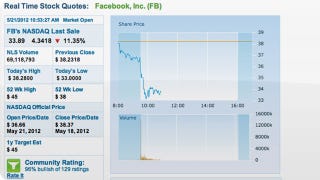 The stock is falling! The stock is falling! If you stopped following the Facebook IPOcalypse on Friday, it might be time to pull up another chair. FB has plummeted 12 percent as of this writing, with no signs of pulling out of its nosedive. Ruh roh.
But don't worry! There's a perfectly good explanation for all of this. The truth is, Facebook's been heading for a tailspin since the very first trade.
Here Comes the Drop
You've probably read that the initial Facebook IPO price was $38. And that's true enough, technically. But the only people getting in on that $38 price point were big institutional banks and their clients. That trading occurred Friday morning, before FB officially hit Nasdaq, and drove the price up to $42 by the time it was actually publicly traded.