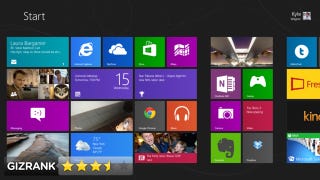 Windows. The central pillar of Microsoft and the modern computing world has also been, for the past several years, passingly easy to take for granted. Operating at varying degrees of mundane to tolerable, Windows has been a bore; a groan and a what-can-you-do shrug. No more.
With the intersection of PC and tablet interface in Windows 8, Microsoft hasn't just made a gamble on its Metro interface (Microsoft doesn't call it that anymore, but we have for months and will continue to) catching on; it's introduced a whole new set of variables to an overwhelming frontrunner. It's like Usain Bolt going home and training to run the 100m while playing the bagpipes. The degree of difficulty is staggering. The ambition behind it admirable. And the execution? Not half bad. But not quite there yet, either.
Using Windows 8 is pleasant, especially if you don't have to do anything in a particular hurry. It's a totally new way of thinking about how you want to operate in a desktop OS—and maybe not entirely in the way you think. But it also seems like a rough draft of a deeply interesting idea.
Why It Matters
Why does Windows 8 matter? Ha! Ha ha ha ha ha. Simply, this is the first time that you will have to re-learn how to use Windows on a basic level since 1992. Windows is the most central piece of software in the world, and it is undergoing a major paradigm shift. It's the New Deal, for PCs.
This is a chance for Windows to really stretch its legs. Windows 7 was a strong, totally acceptable OS. But it always felt like it was making up for the sins of Windows Vista before it. Windows 8 can claim an identity of its own.
Moreover, every PC that can run Windows 7 can run Windows 8. That's especially notable, because the system requirements for Windows 7 didn't budge from Vista's. That's three Windows updates in a row all running on the same machines. This is Microsoft doubling down, throwing specs out the window, and trying to deliver performance, good design, and usability.
Design
Windows 8 is a dramatic change from previous versions of Windows. But only if you want it to be. The old desktop—basically everything you would see in Windows 7—is still there, with its taskbar and folders and windows. It's still there, but now there's a new layer of the OS that's built around information and visually driven "tiles" that display things like message snippits, the weather, sports scores, or photos. The name for this layer is still up in the air, but we're calling it Metro here. It is designed to be touch-friendly, but it exists in the PC version because Microsoft has merged its tablet and PC operating systems.
Even if you're dead-set on changing absolutely no part of your Windows day-to-day while using Windows 8, there's one part stands out even on the desktop: Metro remakes all of your windows. Instead of the glassy, transparent, rounded look of Windows 7 (Aero Glass), the new windows are sharp, with solid colors and cleaner lines. It's a superficial change, but it affects the entire visual makeup of the desktop.
The move away from Aero Glass gives apps on the desktop a visual fidelity that has been missing for a long time. Things feel solid. Like they fit together. Like they're not just haphazardly pieced together chunks of pixels and code. And the uniformly colored window panels that fade to gray when they are not selected do an excellent job of drawing your focus to the task at hand. It's an extremely sophisticated boost to the user experience.
A nice little bonus is that Microsoft's new streaming music service, Xbox Music, is automatically attached to your account, and active in the default Music app. Think of it as a built-in Spotify. That means you'll literally be able to just start up Windows 8 for the first time and play free music right away. That's a great touch.