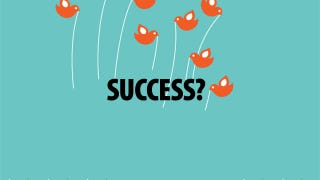 Twitter is bragging because it didn't go down on Election Day. The info-bloat peaked at 327,452 tweets-per-minute last night, and not a single Fail Whale appeared! High fives all around! Way to... work like you're supposed to.
Listen people, getting excited for a service that doesn't fail is the epitome of technological stockholm syndrome—another symptom of the ever-growing beta culture plague.
Because, reading Twitter's own statements and the commentary by some of the press, it appears that you all should be grateful that Twitter didn't collapse in on itself. After years of crapping out constantly, Twitter didn't crap out yesterday. Not crapping out—even while you weren't supposed to crap out in the first place—is what counts as a raging success nowadays.
Yes, maybe that's the benchmark of excellence now. Here, Twitter. Take a medal for not sucking.
After all, the tech world is now pure beta culture. It permeates everything—software, hardware and internet services. The planet is bursting with half-baked products and features full of bugs and pathetic excuses.