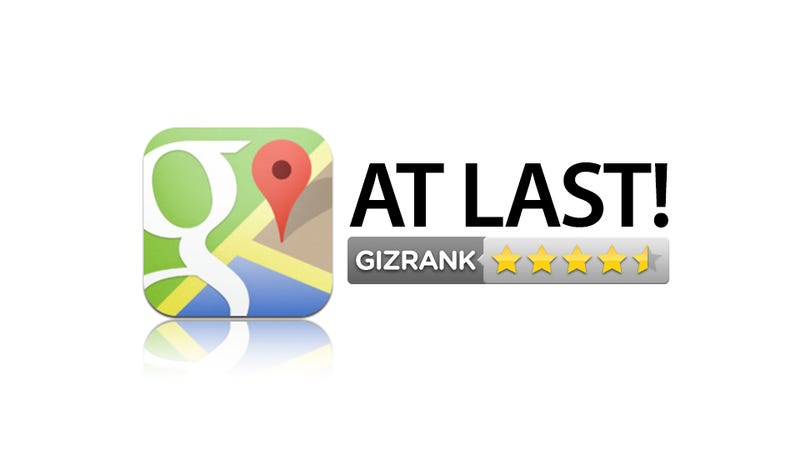 After some intensive testing since its yesternight release, there's no doubt about it: Google Maps for iOS is, hands down, the best maps application, perhaps on any platform. So good, so fast, and so clean. There's really no contest. They nailed it, and shamed Apple in the process.
I thought that maybe my first impression—playing with it for an hour immediately after downloading it the moment it came out—was influenced by my suffering with Apple Maps since I upgraded to iOS 6 in September. No matter what the Apple apologists say, Scott Forstall's final horrorshow was a rushed-out excuse of a product with poor location information and bad search logic dressed up with flashy skeuomorphic traffic signs and some useless features ("this sucks... oh, hey, we have 3D buildings!" *drops smoke bomb*).
Even Apple admitted that much after it was obvious that its customers—not just the media—were protesting hard everywhere. In my case, three out of three Apple Maps-guided road trips were screwed at one point; once Apple Maps escorted me to a pedestrian bridge in Pennsylvania. It was that good. And almost every single time I've tried to search for a business near me, it has failed. Like when I needed to fix my Denon cans and it showed me one result: an auto repair shop an hour away from my house. A Google Maps desktop search showed five actually appropriate locations within walking distance. You do the math.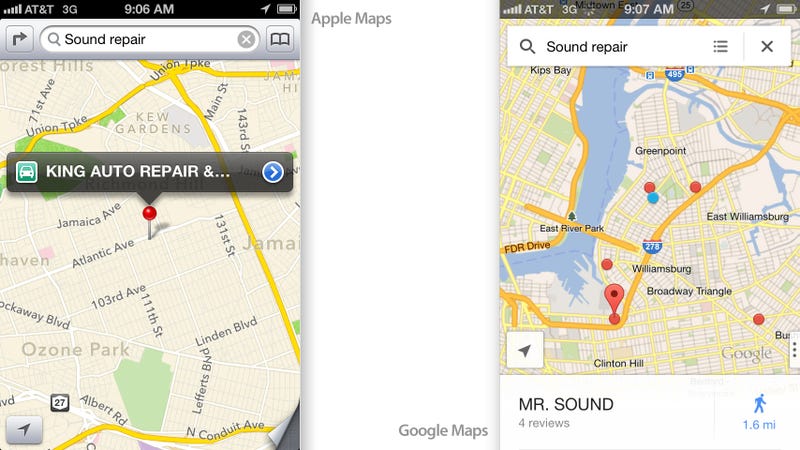 But no, it wasn't just the contrast with my Apple Maps experience. After more intensive testing today, it's clear that Google Maps stands on its own as a polished, brilliant product that actually works, as opposed to the brilliantly polished turd that is Apple Maps. The iOS maps nightmare is over.
What Is It?
A maps application for iPhone that provides with turn-by-turn driving directions, transit information, and walking routing. It includes 360-degree street views (so extremely useful when going to new places), location reviews (restaurants, shops, etc. all pulled from Google's reviews), traffic information in real time, and overlaid subway and bus maps (showing every bus stop as little dots is such a nice touch). It also synchronizes with the desktop version of Google Maps as long as you enter your Google account information (this is optional, but one of its must-have best features).
Who's It For?
Everyone with any iOS device: Phone 3GS, iPhone 4, iPhone 4S, iPhone 5, iPod touch (3rd generation), iPod touch (4th generation), iPod touch (5th generation) and iPad. EVERYONE.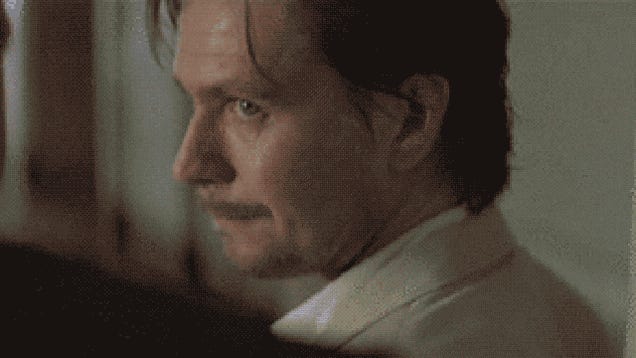 Design
So clean, so good. Completely devoid of skeuomorphic elements, the Google Maps interface is a joy to use. It has an optimal information density, it's pleasant to the eye, it makes a good use of icons, and its information is always clearly presented, ordered by importance.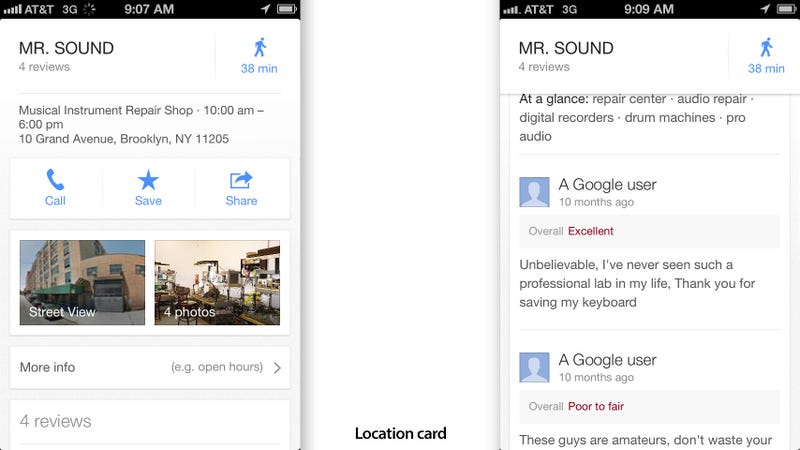 The user experience is great all around, from the speed of searches and the maps display (which is vector-based, resulting in a faster faster, kill kill pussycat experience) to the layout of each location information card.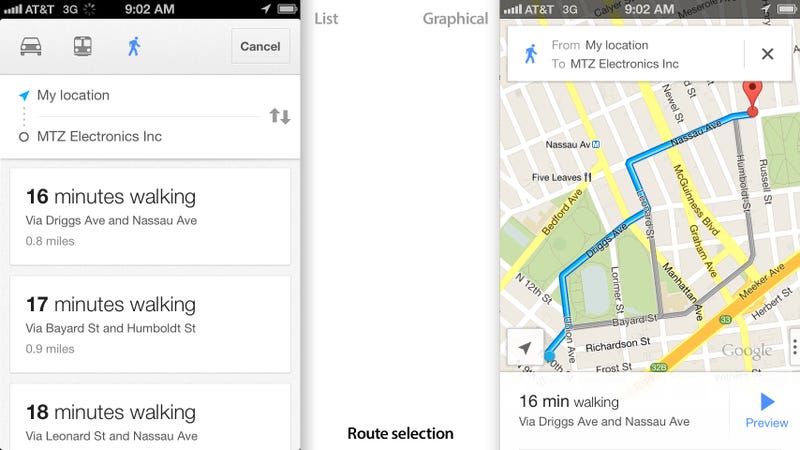 Selecting routes using different transportation methods is a one-click breeze, either from a list or directly on the map. It's definitely a better user experience than Apple Maps, which is a contrived interface clearly skewed in favor of turn-by-turn driving.
Like everything else, traffic and public transportation stops are also clearly presented. Extremely good job, Google.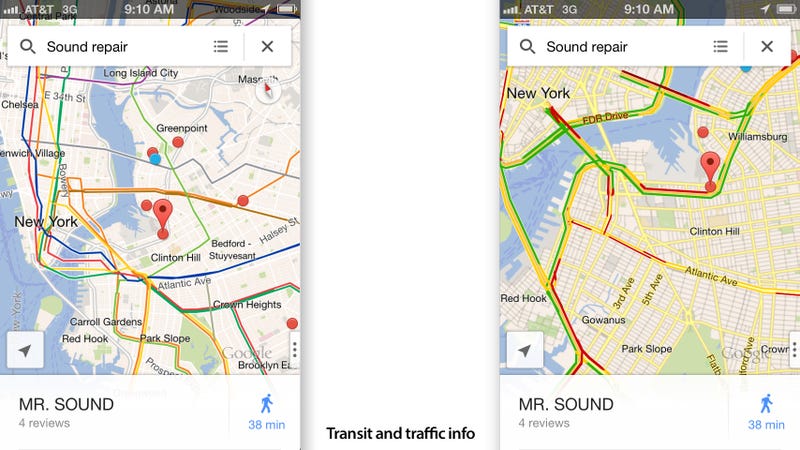 Using It
Start with the top search field. Enter any term and instant results—using Google's bulletproof search engine, your past search history both on mobile and desktop, and your favorite places—will appear. Click one of the instant results, or click search for more. The results are displayed on the map, with a very convenient swipe-and-see bottom strip that shows the name and basic info of all the results, one by one.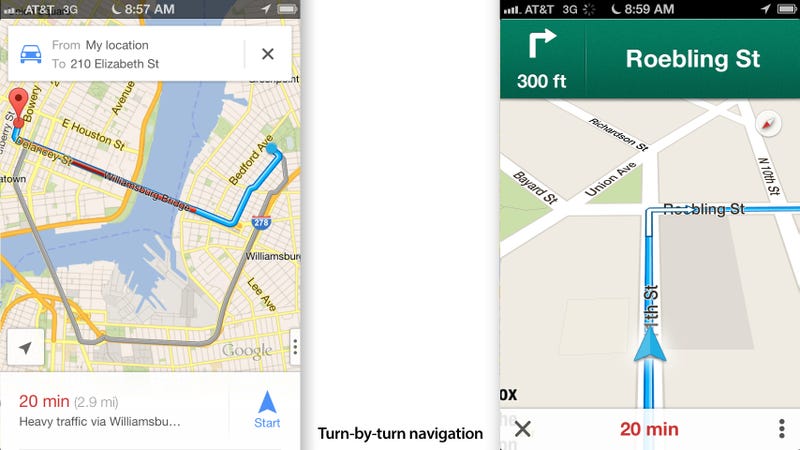 You can swipe on any business name to quickly access to its information card. These have a very clear layout that gives you what you really need to know without having to go through stupid tabs. Just scroll down to see the information in order of importance: opening times, address, three big buttons to Call, Favorite or Share, Street View (just click once over the thumbnail, and boom) and customer photos, and finally reviews, starting with Zagat Reviews for restaurants and other businesses. I will take these anytime over Yelp, thank you very much.
But you can ignore the information card, of course, and start the routing right away. Click on the icon next to the business name and it will show you the route panel, in which you can quickly select your preferred transportation method. Clicking on car, transit, or walking will show you a nice list of proposed routes, sorted by time. Click on any of them and the map overview will open. At this time you can start the route right away or select an alternative route graphically in the map itself. It's pretty simple, logical and fast.
The routes just work. All my tests worked just fine, showing the fastest routes possible. The turn-by-turn navigation has a clear voice. The app will push direction notifications—and speak them, too—if you close out of it in the middle of a route. These can be turned off if you want.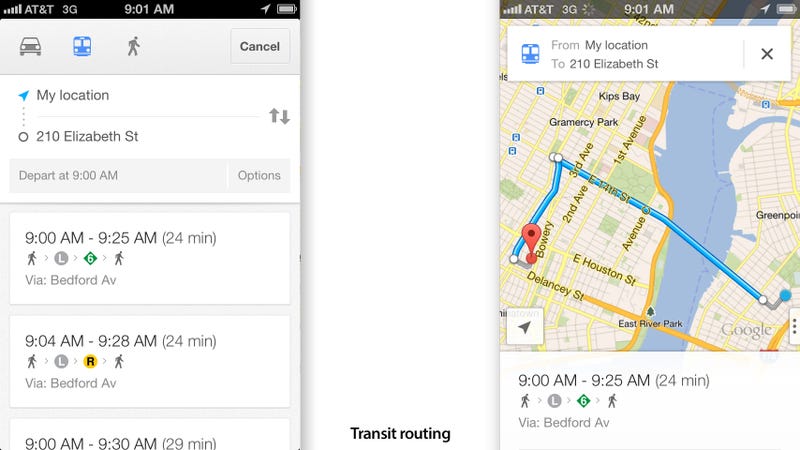 Traffic, transit maps and satellite views are all accessible by swiping a little widget to the left. This is also a straightforward and fast step—like everything else in this app.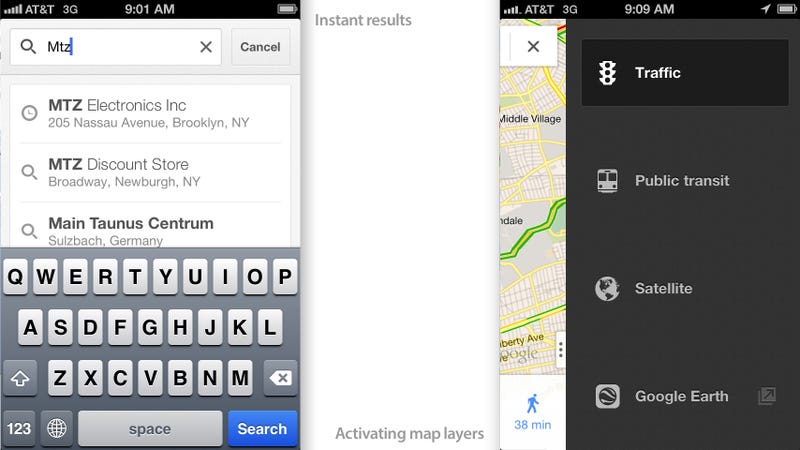 Oh, and as a bonus:
Google Maps shows real 3D maps too. When you zoom in, you will see them. Not fake isometric perspective, but actual 3D stuff.
You can look around Street View using the accelerometer and the compass instead of using your finger. That means you can get to near a location and, if you are not sure where the business is, you just take Street View out and compare.

Hello again, awesomely improved Street View

Tl;dr: It's a joy to use.

The Best Part

All of it. It just works great so far, thanks to an ingenious user interface and Google's smart, still best-of-class search engine. But the best perk? Unlike Apple's artificial product divide designed to sell products instead of serving its customers, the turn-by-turn navigation works in most low-end iOS devices.

Tragic Flaw

The tragic flaw is not Google's fault. The tragic flaw comes from Apple: you can't set Google Maps as your default Maps application. If you click on an address in an email or contact card, it will still open the Apple crap. This is something that Apple, if they really wanted to serve their customer, must change for all its products. Why should they force me to use their Maps or Mail app throughout iOS?

There you have it. The only reason why we are not giving this five stars is because of Apple's stubbornness to push some of their inferior apps down our collective throat.

This Is Weird...

That Google has nailed this so hard at the user interface (and every other) level, while Apple still hasn't gotten its act together.

Test Notes

All the routes I've used to test its accuracy were known routes to me. Every time Google Maps returned the optimal route first, offering alternative routes if available.
The experience has been the same among all the iPhone users in Gizmodo's staff except Harry, who found a glitch. For him, it also shows the optimal route on the first position, but he says the suggested bus is never on schedule—so it's not useful for him. The strange thing is that none of the alternative routes show his best alternative route. Instead, it strangely displays different results every time. If you have other reports about strangeness, please post them in the comments.
This thing is great. Download it, and never look back.

• Price: Free
• Giz Rank: 4.5 Stars