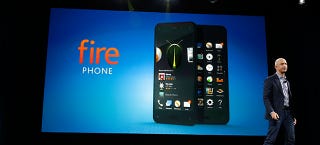 We've been hearing the rumors for weeks (months? years?), and the day has finally come. Amazon's phone is here. It's called the Fire Phone, and it's got some fancy new tricks.
Dynamic Perspective (3D Display)
As rumored, the Fire phone will have a unique 3D interface called Dynamic Perspective. It can shift the image on the display to add a depth effect, making it appear as if you're looking through a window into another world. Will this work well? Will it explode if you and a friend are looking at it at the same time? Maybe! We don't know yet.
Dynamic Perspective was demoed on the phone's lock screen at Amazon's event today and it looked cool, but it seemed much more effective in the Maps app. Not only did it make the Empire State Building look like it was popping out, but when you're looking at layers on a map (say, nearby restaurants) you can tilt the phone one way to remove the layers, and tilt the other way to display them again.
It also looks pretty awesome for games. In a game called Tofu Fury, you can look around the world by moving the phone so that you can really see where you are and where you need to go. It's still not clear whether it'll be a go-to feature or a gimmicky eyesore, but it's definitely different. You can read about Dynamic Perspective in more detail here.
(photo by AP)
UI
There's a layer of gesture control here. Autoscroll seems to the be the big one, which is basically where you can tilt the phone to scroll down, or to zoom in (on certain web page pages, like Amazon dot com). This is something Samsung tried with the Galaxy S4 a year or so ago, and it was a gigantic flop (the gestures, not the phone), so we're going to need some convincing on this front. That said, it looked like Amazon has figured out a better implementation, at least from the demo. You can lock in the scroll speed for a teleprompter-like effect.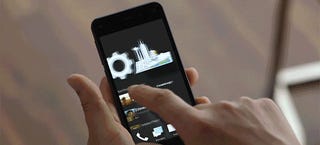 The Carousel UI will be familiar to any Fire tablet owners, with the added benefit that you can now see little previews of data within apps. For example, you can see your first few emails (and even delete or manage them in some ways right from there). Or you can use it to see your nearest appointments in your Calendar. There's also a handy Android-like app grid, if you're more into structure. You can pin not only apps there, but also content.
Hardware
So, how does Amazon's Dynamic Perspective work? Basically, there's a matrix of front-facing cameras. Not just two, so they can see the X and Y axis for your face, but four front-facing camera, one on each corner of your phone. This gives them accurate Z axis (depth), which gives you the full perspective feel.
Not only that, but because people use their phone in all kids of lighting conditions (including no light at all), Amazon added an infrared light for each individual camera camera. The lights are invisible to our naked eyes, but they work great for camera. This should mean your face is always in focus, and its positioning should always be accurate. It should also mean that you have infrared light being blasted at your face most of the time? Okay then!
Under the hood there's a quad-core 2.2GHz processor, which is probably Qualcomm's beefy Snapdragon 800. It's not quite as robust as the new 801 we're seeing in phones like the Galaxy S5 and the HTC One (M8), but it's where the Nexus 5 gets its super speed, so hopefully that'll come through here as well. The Fire phone has 2GB of RAM, which is competitive with other high-end smartphones. It boasts Gorilla Glass 3 on its 4.7-inch, 720p display, and rubberized edges for extra grippiness. It will start at 32GB of built-in storage, but you can step up to 64GB as well. You can also check out a fuller spec comparison chart here.