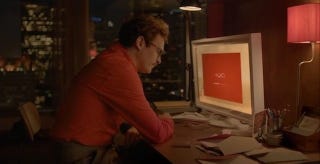 Not even those who worked on the Oscar-nominated film Her are sure exactly how near we are to the near-future depicted in the movie. "I think the idea of the near-future is that you can't predict the pace of technology," says graphic designer Geoff McFetridge, who designed the interfaces for the film.
Credited as Her's "graphical futurist designer," McFetridge was charged with imagining how we might interact with our devices in that near-future (which he estimates is anywhere from next week to 15 years from now).
His graphics and interfaces play a large role in the film, from the hand-writing application Theodore Twombly uses at his job at Beautiful Hand-Written Letters, to the fictional L.A. subway map he walks by, to the logos and packaging for the OS 1 device that changes his life, to the iPhone-esque interface itself which we come to know as the character "Samantha."