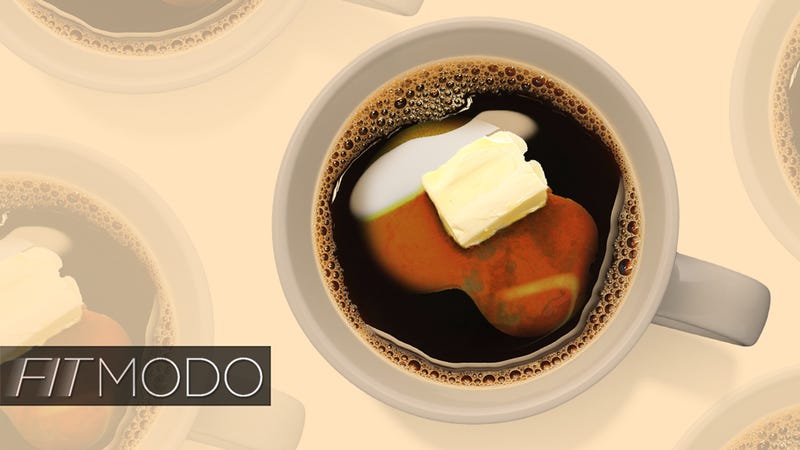 People are putting butter in their coffee. And hey, if you're just craving a new flavor experience, more power to you. The problem is that Bulletproof Coffee, the company behind the trend, is claiming that drinking a mug of fatty joe every morning instead of eating breakfast is a secret shortcut to weight loss and mental superpowers, and now the butter coffee has developed a cult of highly caffeinated, shiny-lipped adherents. So now we have to talk about it.
Welcome to Fitmodo, Gizmodo's gym for your brain and backbone. Don't suffer through life as a sniveling, sickly weakling—brace up and get the blood pumping! Check back for the latest in fitness science, workout gear, exercise techniques, and enough vim and vigor to whip you into shape.
What the hack is Bulletproof Coffee?
Bulletproof Coffee is, essentially, a hot coffee, plus two tablespoons of butter, plus a tablespoon of MCT oil (that's medium chain triglyceride oil, which we'll talk more about in a minute). Then you stick it in a blender until it's all emulsified. Then you drink it.
Depending what level of the Bulletproof Diet you adhere to (yes, there's a whole diet that goes with this), that is generally your entire breakfast. According to Bulletproof, you should reeeeally be buying its outrageously overpriced "upgraded" coffee beans and its version of MCT oil which it has branded "Brain Octane," or, y'know, maybe this magical coffee won't work!
Bulletproof Coffee was started by Silicon Valley investor/entrepreneur Dave Asprey, who calls himself "The Bulletproof Executive." The lore goes something like, Dave was a big fat guy, and then he turned is obsessive mind to become a "biohacker," and he hacked his way into health and fitness. Because everything is a hack. One of the key components to reinvention, he claims, was his buttery coffee breakfast, which he was inspired to create this after having some traditional yak-butter tea in Tibet.
Okay, that's all fine. Where things get dodgy is when we get into Dave's claims for what this coffee does. The most dubious one is that starting your day off like this turns your body into a fat-burning machine. That it promotes healthy weight loss. That it eliminates hunger pangs. But wait, there's more! He also insists that it's the secret formula for improving mental focus and brain power. That it's a way to improve the effectiveness of coffee, making it jitter-free and eliminating spikes and crashes. And also that it's delicious.
There are a ton of very bold claims to dig into. Some are extrapolated from nuggets of truth. Some are wildly baseless. Let's start off with a very important lesson we learned from All The President's Men.
Follow the money
Okay, so you're an entrepreneur and you've come up with this idea that adding butter and MCT oil to your coffee is the secret to all kinds of good stuff. You've still got a problem: You can't monetize a three-ingredient recipe. Damn. There's got to be some way you can get rich off telling people to do this.
Enter the Bulletproof product line. They sell a ton of dubious health products at a significant markup, but let's focus on the stuff that goes into the coffee.
First up is Bulletproof's Upgraded Coffee Beans. One of the boldest claims Asprey makes is that most coffee is loaded with "performance-robbing" mycotoxins that "steals your mental edge and actually makes you weak." This is the least-bulletproof of all of Asprey's arguments. Mycotoxins are, basically, mold, and it's true that many of them are bad for you, inflammatory, and maybe even cancer causing.
Asprey claims that his Upgraded beans undergo a secret, proprietary process that all but eliminates mycotoxins. He also claims that mycotoxins are the reason you coffee is bitter.
This is almost entirely bullshit.
For starters, while mycotoxins can grow on coffee beans, the coffee industry has known about this for decades. This is why wet-processing was developed; a technique employed by nearly every roaster in the world, wherein the beans are washed, and nearly all mycotoxins are eliminated.
This is something that is regulated both internationally and in the U.S. In fact, one Spanish study found that people who drank four cups of coffee a day (and this is any brand of coffee, regardless of price and quality) had only 2-percent of what is considered a safe level of mycotoxins.
In other words, you could drink 199 cups of coffee in a day and still be under the safe limit for mycotoxins. Further, mycotoxins are everywhere, including human breast milk, and a lot of the meats Asprey recommends in his own Bulletproof Diet.
There is also absolutely zero evidence to support Asprey's claims that his coffee has fewer toxins or provides better performance. Also, just what the hell does "performance" mean in the context of coffee? Unclear. What is clear, however, is that Asprey charges more than $25 per pound of his "upgraded" coffee. To its credit, it is a tasty cup of coffee, but I've had cups that were just as tasty, and "performed" just as well, that cost half as much. If you want to learn more about mycotoxins in coffee, this is a very good read.
Then we have the Brain Octane, Bulletproof's version of MCT oil. Let's be clear here: It's just MCT oil. There's nothing special about it. Bulletproof claims that while other oils have an "unpleasant goat-like smell and taste" Brain Octane tastes like nothing at all, so you can put it in anything! Great, except that any decent MCT oil you buy won't taste like anything. So what's the difference, besides the name?
Well, Bulletproof sells 16 ounces of Brain Octane for $23.50. In contrast, I was able to buy the 32 ounce bottle of the Now Foods brand (which I've found to be quite reliable) at Whole Foods for the same price. Yes, at Whole Foods—the store often dubbed "Whole Paycheck"—it costs half as much. Go online, and you can find the 32 ounce bottle for $16, which is roughly one-third the cost of Brain Octane.
Get the picture? I have tried Bulletproof Coffee with their beans and their MCT oil, and I've tried it with some coffee I bought at a local café, Now Foods MCT oil, and butter from my nearby natural grocery store. There was no detectable difference.
Large claims court
Okay, we've tackled the Bulletproof branded products, but let's dive into some of the other claims.
"I'm programming my body to burn fat for energy all day long!"
There are no peer-reviewed studies that corroborate the idea that eating nothing but fat (and caffeine) in the morning, sets you up for burning body fat. Conversely, the majority of the studies Asprey sites for his diet were done on rats and mice. Some were four decades old. Some used humans, but in incredibly small numbers. One study's entire sample consisted of two people. One was just on rats with an auto-immune kidney disease.
This is what's known as confirmation bias. For those unfamiliar with the concept, it's when you start with a conclusion and then go looking for evidence to support it, generally ignoring evidence that may contradict it. It is the opposite of good science.
You can lose a pound a day on this diet.
This may be true, but that doesn't mean it's a good thing or that it's good for you. Hell, I lost six pounds in four days by eating nothing but ice cream. And then I gained literally all of that weight back that very weekend. This is the problem with these extreme diets that promise rapid results: They aren't sustainable. You can lose weight on just about any diet (Paleo, Atkins, South Beach, 4 Hour Body, etc), but the number one reason that extreme diets fail is that they are very hard to stick with over time.
And make no mistake, the Bulletproof Coffee Diet is most definitely extreme. Between the two tablespoons of butter and one tablespoon of MCT oil in your morning coffee, you are consuming 140 percent of your RDA for saturated fat before you have taken a single bite of real food. As for the rest of the diet, it's basically a high-fat riff on the Paleo Diet (which is, itself, highly controversial).
Bulletproof recommends that you get 50 to 70 percent of your daily calorie intake from fat. While nutritional science has definitely come around on fat, it hasn't come around that much. Saturated fat may no longer be the villain it once was, but that doesn't mean it should make up more than half of your diet. Most nutritionists, who recommend a balanced diet, would put that number around 25 percent.
While no one diet is a perfect fit for everyone, some conventional wisdom has stood the test of time. If you want to lose weight and keep it off, increase the amount of calories you burn by becoming more active, and then find a way to reduce the calories you consume until you're burning a bit more than you consume. Say, 100 more a day. Find a way that feels right to you, so you don't feel like you're starving, and so you get all the nutrients you need. The pounds won't just "melt away," but if you are much more likely to keep going with it. For a crash-course in fat, read this.