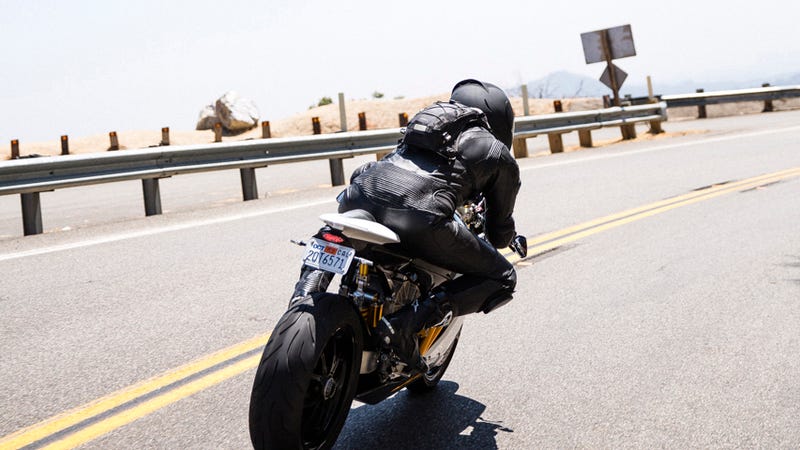 Capable of keeping you dry when it's wet, cool when it's hot, warm when it's cold and alive in a crash, motorcycle safety gear is the most advanced apparel this side of a space suit.
This guide is going to focus on street motorcycle gear and the kind worn on dual-sport and adventure bikes. Maybe we'll look at dedicated dirt bike or track gear in the future.
Why Wear Motorcycle Gear? "But what happens when it rains?!" That's one of the questions I get asked most often when people find out I don't do cars. For purposes of talking about something else (and appearing tough), I usually just say, "Well, you get wet." But, that's not really true. When it rains, I just make sure I'm wearing a waterproof full-body suit, waterproof gloves, waterproof boots and, if it's really coming down, maybe a silk scarf to seal the gap around the top of my neck. Then, I'm as dry and toasty as you would be in your minivan and you can thank me because I'm incrementally reducing the congestion you face.
Before we get into the nitty gritty, there's a couple things you need to understand about motorcycle gear: 1) It's expensive. But, 2) It's nearly as fundamentally important to the act of riding a bike as the motorcycle itself, so you simply need to factor its cost into your overall budget. If you've got, say, $5,000 budgeted to buy your first bike, expect to spend $1,200 to $1,500 of that on stuff like a helmet, suit, boots and all that. Over time, the financial burden will decrease as you acquire new items separately; you know, a new helmet here, a better back protector there and so on.
Those guys you see riding around without any gear or the ones who go helmet-only to satisfy minimal legal regulations? Well, those guys are total poseurs who are riding around in wide-eyed terror, even just traveling in a straight line at moderate speed.
The very act of riding without motorcycle gear is so ridiculous that it serves to demonstrate a total lack of comprehension about what it's like to operate a bike with skill, what it's like to spend a lifetime on two wheels, the effect weather has on the human body and even compromises their ability to control and operate the motorcycle itself. You are not able to fully appreciate your motorcycle unless you are wearing gear.
This applies no matter what kind of bike you're riding. While yes, a one-piece leather race suit is going to be more applicable to a sportsbike than a cruiser, the laws of physics remain the same whether your bike goes "vroom vroom" or "potato potato." Our bodies evolved to travel no faster than about 25mph; even at that speed, hitting something hard can hurt or kill you and, if you're going any faster, your bones and organs simply can't handle the forces on their own.