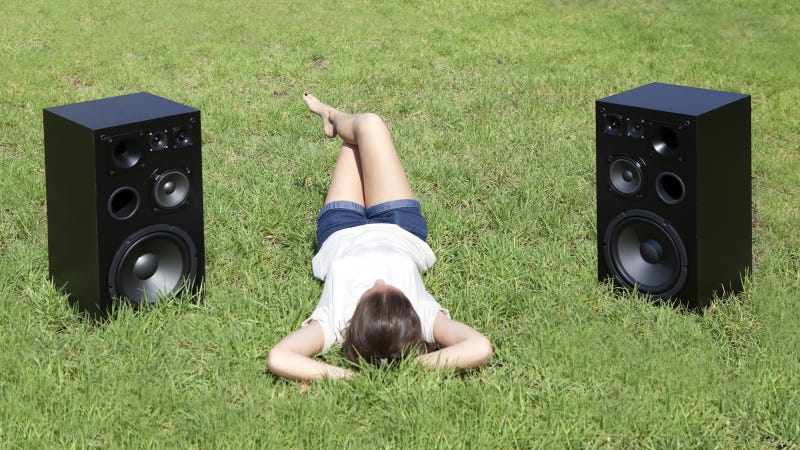 The season for backyard barbeques and pool parties is upon us! But with the summer sun smothering the East Coast, who wants to crowd their ears into a pair of headphones or jam silicone buds down their ear canals? Instead, here are four easy ways to bring your playlist poolside.
---
Reuse Old Computer Speakers
The simplest (and free) solution is just to crack a window and crank up the volume on your indoor speakers. But if muscling a pair of 500W speaker cases into your rear windows is too much work (there is a heat wave on after all), there is a more direct—and equally easy on the wallet—approach to bringing your music outdoors: Plug a pair of old external computer speakers into your laptop or tablet and bring it outside with you. They may sound tinny compared to your living room stereo system, and you'll need to make sure the components are sufficiently protected from splashes and excessive heat/sun exposure, but it certainly beats having to drop your hard-earned cash on a boombox.
---
Pump Up the Jambox
In fact, a full-on boombox is a bit overkill for a pool party—you really only need the speakers themselves. And for $150 - $300, the Jawbone Jambox sounds like a winner. These 85 decibel stereo speaker boxes connect to your phone, tablet, or computer via Bluetooth and work up to 150 feet away from their source. That way, any misdirected cannonball splashes will at the very worst only soak the speakers, not your $1200 laptop. That's not to say that the Jambox is the only portable speaker option (Amazon has a full 400 pages of options), it's simply the best.