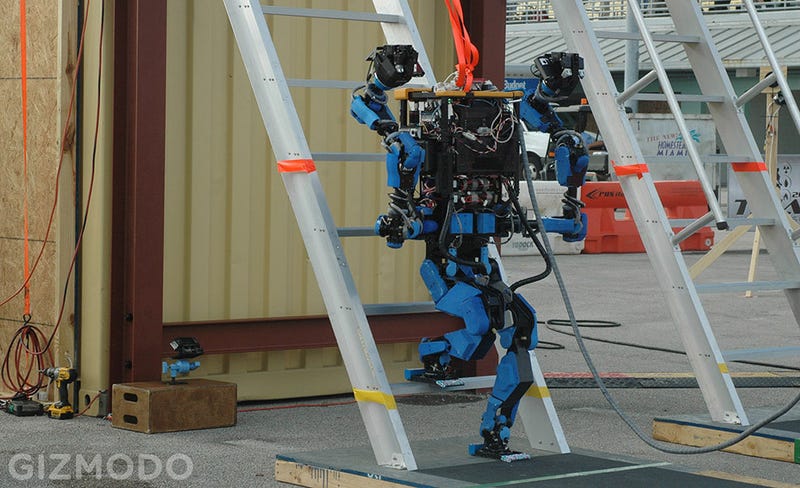 The teams have broken down their robots and packed them up in crates and suitcases, loaded them into trucks and taken them on airplanes and gone home. Some will lick their wounds and rebuild to fight another day. The lucky ones will get a million dollars each from DARPA to continue developing their bots.
The DARPA Robotics Challenge trials, or DRC, ended yesterday. The 16 teams and their bots pushed, stumbled, drove, strutted and clambered their way through 8 disaster recovery-related challenges put to them by the Defense Advanced Research Projects Agency, or DARPA, the Pentagon's mad science arm, over the course of the last two days.
"This has been an extraordinary event that has exceeded my expectations by multiple, multiple times," said Gill Pratt, the DARPA program manager in charge of the DRC, during a closing ceremony. "I've been saying to the media for quite some time that I would be thrilled—thrilled—if even one of the teams scored half of the points in the DRC trials. Well, it turns out that 4 scored over half the number of points."
Team SCHAFT, which got started at Tokyo University and became a private company, ruled the field, garnering best in task awards in half of the challenges: the walking on uneven terrain challenge; the ladder-climbing challenge; debris clearing; and the hose-connecting challenge.
Team leader Yuto Nakanishi focused intently on his bot, a 5-foot, 5-inch, 209-pound blue bipedal machine, as it moved with uncanny grace through the challenges. Nakanishi was the very picture of cool and collected until the machine completed a given task with nary a stumble, at which point he pumped his fists and let rip a victory yell.
SCHAFT ruled the Challenge, but now Google rules SCHAFT. The Internet search company confirmed a week before the DRC trails that it had bought the team along with Boston Dynamics, the company that built the Atlas robots with which 7 of the teams competed.