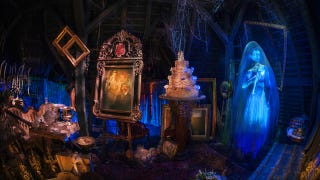 The manifesting and disappearing ghosts in the grand ballroom of Disneyland's Haunted Mansion aren't holograms or digital projections. They're based on Pepper's Ghost, a nineteenth century technique that, until the Haunted Mansion was constructed, had never been used on such a grand scale.
This is Part Two of our excerpt series from The Unauthorized Story of Walt Disney's Haunted Mansion, by Jeff Baham, published by Theme Park Press, and reprinted here with permission. Check out the first excerpt here .
The Pepper's Ghost effect essentially combines two scenes into one by forcing the viewer to see a superimposed image through reflection. In the case of the Haunted Mansion ballroom , the Doom Buggy track runs directly between the two sets. The carriages face a giant sheet of plate glass, through which guests view the scenery and props from above, peering down into the set. Below and behind the Doom Buggies, the appearing and disappearing "ghosts" are placed into a second blackened set in a mirrored position relative to where they are to appear interspersed with the scenery and props. As they are illuminated, their reflections in the glass seem to interact with the scenery in the ballroom set.