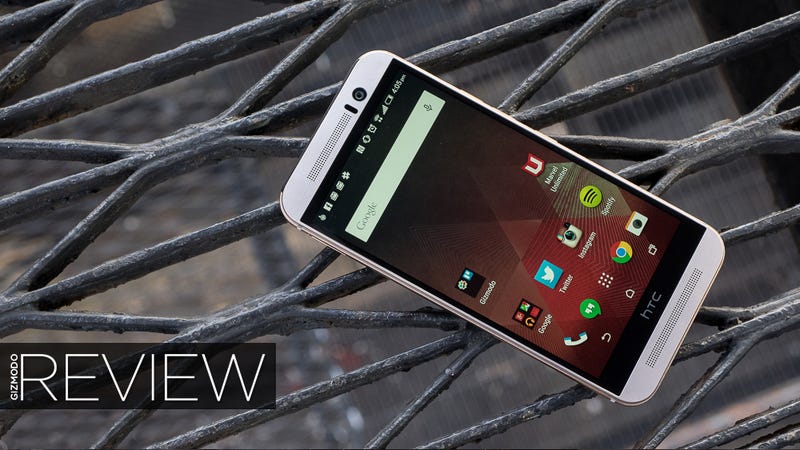 Everyone loves an underdog. They're new, exciting, and upset expectations. In 2013, the HTC One M7 brought that incredible disruptive energy to smartphones, and the following year's M8 ran neck and neck with the best you could buy. Today, the HTC M9 goes on sale, and it's no longer an underdog—but it's not exactly leading the Android pack, either.
What Is It?
The One M9 is the latest 5-inch flagship smartphone from HTC, complete with Android Lollipop, amazing dual BoomSound speakers, and the latest processor from Qualcomm all wrapped in an aluminum chassis—your choice of silver/gold, gold, or gunmetal grey. Although the price hasn't been determined, you can probably expect to be parting with $650 for an unlocked model (or $200-$250 on contract) with all major U.S. carriers starting April 10th.
Note: Our review unit was an international version, so I was unable to test LTE connectivity and any additional effects on battery life and general performance.
Why Does It Matter?
HTC's One series has always been an indicator of what premium Android smartphones will look like in the future. In 2013 when the first One was introduced, most smartphone makers were still making plastic and faux-chrome smartphones—I'm looking at you, Samsung—and now almost all of them have embraced the fancy aluminum way of thinking. A vote for HTC is a vote that smartphones will continue to be fashion statements first and communication devices second.
Design
The HTC One M9 is one of the best-looking smartphones you can buy. It's one of those smartphones that feels almost criminal to enshrine in a plastic case and obscure its machined metal exterior. It's a smartphone for show, a fashion accessory, a 5-inch slab of metal that's practically jewelry. This smartphone be pretty.
What it isn't—design-wise—is new, exciting or meaningfully different.
The M7 that wowed us back in 2013 made a big splash in the Android smartphone pond, but last year's M8 was really just a ripple—slightly bigger, rounded edges, and to some, a design step in the wrong direction. The M9 is also a ripple, another small iteration on what's come before and strangely more akin to the original M7.
M9 bottom, battle-damaged M8 top
I complained about this after my initial impressions earlier this month, but one of the M9's most distinguished design changes is also one of its most perplexing—a small lip that juts out a millimeter around the entire rim of the M9. Three weeks later, I'm still not quite sure why it's there. It makes holding the phone sort of awkward. Not necessarily bad, but you'll feel that hardware seam when you hold it.
Also, the M9 feels like an accident waiting to happen. Now, I'm not one to break phones. Unlike some of my colleagues, I've never cracked or water-logged a phone, and I don't plan on starting now. But I fear the M9's super-slippery finish might break my streak. Whether I'm pulling it out of my pocket or just it picking up from my desk, the phone slides around in my hand, creating that stomach-drop reaction of "oh shit oh shit oh shit." As of writing this sentence, I've dropped the M9—thankfully from short distances—three times already. The M9 is a curse for the clumsy.
Now, if it's pedestrian jealousy you're going for, the M9 does wonders. When walking about or standing idly on trains, the M9 pulls inquiring glances. But those glances could mean two separate things—great-looking or gaudy-looking. HTC describes the silver/gold finish on the M9 as "jewelry grade," which for me is part of the problem. I've been going back-and-forth on how I felt about my silver/gold companion, and I think I finally fell into the gaudy camp. But that's why more colors exist! Maybe gunmetal grey is more my speed.
Using It
Looks aren't everything. It's true browsing Tinder, and it's true for smartphones as well. What HTC has going on under that brushed metal exterior is just as important. And what M9 has going on is... good enough.
You won't find any complaints here about the One M9's performance, that's for sure. As you'd expect, this flagship has the latest and greatest Qualcomm Snapdragon 810 processor and 3GB of RAM, which could handle absolutely everything I threw at it with ease. But that's table stakes these days.
(Though you may have heard that Snapdragon 810 runs so hot it can cook an egg, I'm happy to report differently. I personally didn't run crazy benchmarks to test that theory because that's not how people use smartphones, but I did actively try to make the smartphone heat up by playing graphics-intensive games. Sure, it got a little toasty, but it wasn't like holding a fistful of fire. Just business as usual.)
And the display—while great!—may not blow you away either. It's the same exact screen last year's One: a 5-inch, 1080p display (441 ppi) with Corning Gorilla Glass on top. Some people seem brainwashed that top-of-the-line smartphones need 2K screens, but this LCD panel is bright and vivid with great readability in daylight.
So what's the issue? Battery life. The HTC One M9 has the biggest battery of any One series smartphone yet and it's running a 1080p screen, meaning it doesn't need to push nearly as many pixels as say the G3, Nexus 6, or the upcoming Galaxy S6. All good news, right? On paper, yes, but not in reality. Some days I was able to eke out to about 2 or 3am, definitely not multi-day use but solid all-day battery life. But then other days, I'd be off the charger by 6am and dead by 4:30pm with just 20 minutes of turn-by-turn directions and an hour of recording audio (with the screen off). When we reviewed the M8, we were able to get stellar battery performance with full-day charge peace of mind. The M9 simply doesn't, and that's a shame.