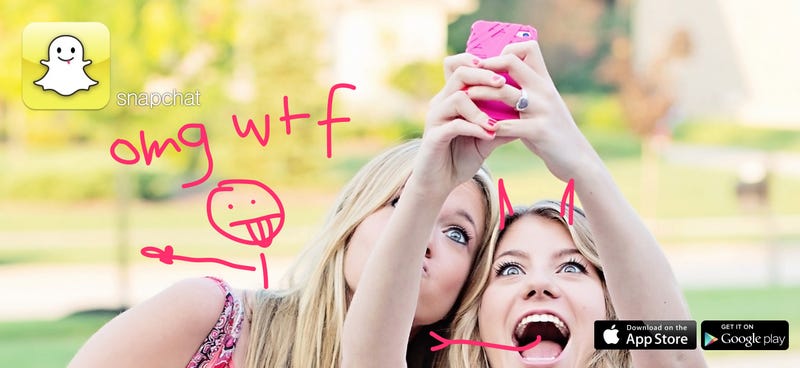 For the past ten days, I've been getting my news from Snapchat. I've learned stuff about internet dating, celebrity plastic surgery, Ukraine peace talks, and Bitcoin mines. But mostly, I've learned what old media thinks app media really wants. And it's not pretty.
First, some definitional challenges. We used to call print media "old media," but history keeps happening and now the term can refer to any large media company that predates Buzzfeed. (Yeah, bitches, that means Gawker Media is old media — though we aren't exactly "large" as compared to say News Corp or Time Warner.) Characteristics of old media include things like: relying on a website or television channel for content distribution, depending on social media like Facebook and Twitter to get attention, and using words like longreads as if they mean something.
App media is the new thing that is making everyone in old media get their knickers in a bunch. Basically, it's just any kind of self-contained app that has its own audience — especially on mobile. That's where wildly-popular app Snapchat comes in.
Snapchat has over 100 million registered users, and last year the company reported that 71% of their users are under 25. So you can see why old media and advertisers are slavering over this app. And you can see why, last month, Snapchat announced a new feature called Discover, which delivers news from a few select companies — from Vice and Yahoo News to CNN, National Geographic and Cosmopolitan.
Despite the enormous and young audience in play, Discover is a tremendously weird development. First of all, Snapchat isn't a likely vessel for news. The app is best known for allowing users to send ephemeral selfies and vids to each other. You point, click, and send to a pal, with the promise that the payload will disappear from their phone in a few seconds (though there are many ways to prevent it from disappearing, as last year's "Snappening" made clear). So how does news fit into this app? Do you watch a story that disappears after 10 seconds? Do videos from the Food Network show up with those little red "you've got a message" boxes in your friend list?