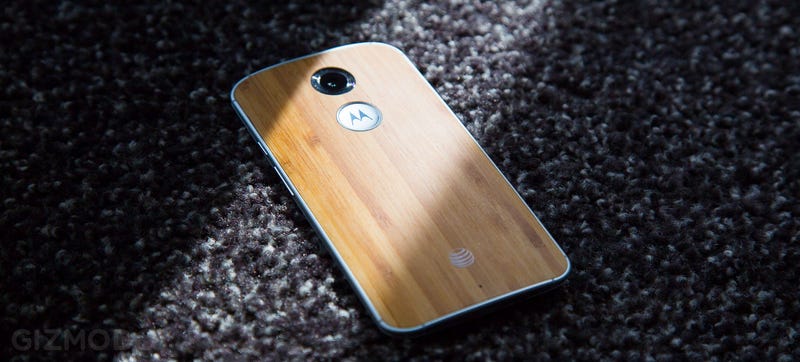 Here at last! The Moto X was one of our favorite phones from last year, and now the sequel is here. It's called... the Moto X. Guess the X+1 thing was just a codename. Labels aside, we've spent a good half day with the new Moto X, and so far it lives up to the lofty promise of its name.
[Moto X 2014, left; Moto X 2013, right]
Hardware
If you spent any time with the original Moto X the first thing you'll notice about the 2014 version is the size. It's significantly bigger, but the good news is that it's also a lot better. This year's Moto X sports a lovely 1080p 5.2-inch AMOLED display (up from 720p at 4.7). To help combat the extra half-inch of real estate, the device tapers down to very thin edges and leaves the narrowest of bezels at the sides. In fact, this year's Moto X is thinner all the way through compared to its predecessor, and for all its extra size it only weighs 5 grams (0.18 ounces) heavier.
There are ample other improvements over last year's model. One of the most noticeable? A big front-facing speaker to rival the HTC One (M8). (Update: just one speaker, not two.) The speaker grill is actually slightly raised above the screen, which made me worried it would stick out and scratch my ear, but it was perfectly comfortable. And it turns out there's a practical reason for the jut—it's so, when your device is lying face-down, the screen is less likely to get scratched. Which... might work? Also, by now you've noticed those two dots down under the bottom of the display. They aren't cameras; they're sensors that help the phone read your gestures. More on that in a sec.
Around the back, is a new 13MP camera with an f/2.25 lens, which is surrounded by a dual flash. Motorola is calling it a Ring Flash, but no, the ring does not illuminate or diffuse the light. Two lights on top of a ring do not a ring flash make. This year's Moto X can shoot 4K UHD video as well as 1080p and regular and slow motions. The camera software controls are still granular, reliable, and clean.
There are also serious gains here in horsepower. This year's Moto X runs on Qualcomm's quad-core 2.5GHz Snapdragon 801 processor with an Adreno 330 GPU in tow, both upper-tier chips and an improvement over last year's 1.7GHz dual-core guts. There are still 2GB of RAM, like the 2013 version. The battery has only been leveled up to 2300mAh (up from 2200), which is a bit concerning considering how much bigger the screen is, but Motorola promises a full day of operation.
It's worth noting that they edge of the device is now wrapped completely in metal, which gives the Moto X a slightly more premium feel. The power button and volume rocker are both on the right side, but the power button has had a little texture added to it so it's easier to tell them apart. Unfortunately, the Moto X still does not support micro SD cards. It can be purchased in 16GB or 32GB configurations, and beyond that you're out of luck.
Software
As with last year's device, this is where things really start humming. The Moto X runs stock Android. Full stop. You heard that right, Motorola does not put any kind of custom skin on it at all. All of augmentations are done as stand-alone apps, and this is very awesome. It means that when Google pushes out an update to the Android OS there's should be basically nothing that Motorola needs to do to it before it can push it out to you (though carriers will slow things down if you're tied to one). In fact, when KitKat rolled out, the unlocked/carrier-free version of the Moto X got the update in just over two weeks, which is crazy fast for a non-Nexus device.