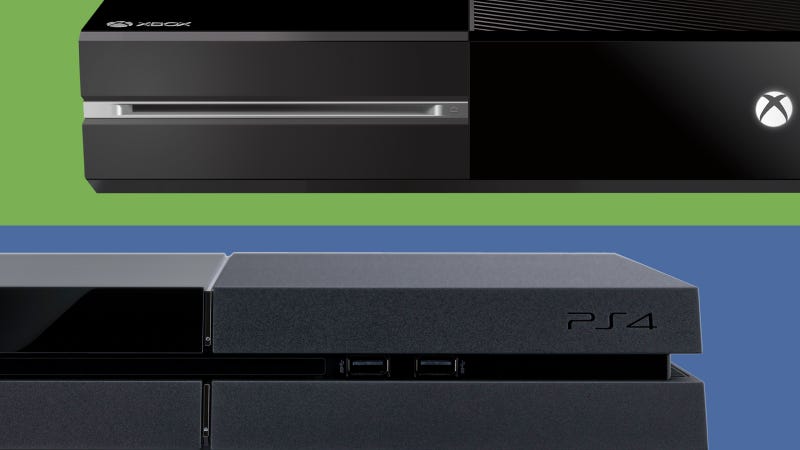 Well, it's finally time to have this discussion. What should you buy, the PlayStation 4 or the Xbox One. It helps that we've finally got some facts to work with in the new console war, instead of just chasing rumors and misinformation. So here's the definitive look at how the two new consoles stack up against each other, and more importantly, what those comparisons actually mean.
Price
A hundred bucks is nothing to laugh at, really, even when that investment is going to spread itself out over, presumably, the better part of a decade. At $500 the Xbox One costs more than the $400 PS4, and even the bundling of a super-powered Kinect 2 isn't going to change that. There's maybe equal value between the two, depending on how much you plan to use Kinect 2, but you don't have a choice in the matter.
One big differentiating factor on price—the fact that PS3 had free online multiplayer while Xbox 360 charged for Xbox Live Gold—seems to be disappearing, though. PlayStation Plus will be required for online multiplayer, at a cost of $50 per year. Entertainment stuff (read: Netflix) will still be accessible for free, though, unlike the Xbox.
Winner: PS4
Controller
On one hand, the Xbox One's controller feels fabulous to hold, and the rumbling triggers are so very much cooler than they should be. They're going to make a big difference. But on sheer potential, Sony's built-in capacitive touchpad, and PlayStation Vita as a (rather expensive) PS4 controller, might be hard to beat.
But! But. The PlayStation controller leaving its analog/d-pad layout unchanged, and no matter how comfortable the rest of it is (which is very!), that's a big downer. More to the point, since the Kinect 2 comes bundled with the Xbox One, it should also be included as a default feature of the "controller." The technology in the new Kinect is truly mind-blowing. It's still probably not really for gaming, outside of some specific examples like dance games, but as a means of controlling your system-level commands, it's a massive advantage. One that Sony can't touch.