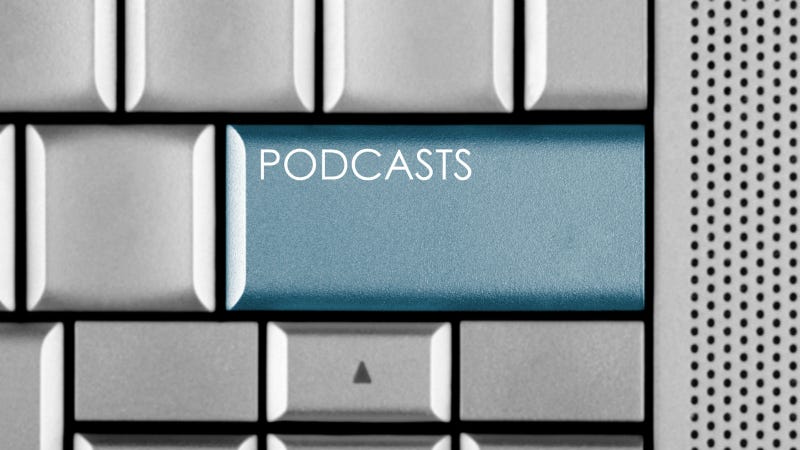 Podcasting has long since broken out of the niche corners of the internet. If you haven't gotten into it yet, it's time to. Here's what you need to know to get started not just enjoying the vast selection of content available online, but to create your very own show as well. Internet stardom is just a few clicks away.
---
How to Listen to a Podcast
Here's the easy part. In order to listen to a podcast, you'll first need a player app. Since many audio podcasts are distributed as basic MP3 files, they'll play on virtually any modern mobile device natively. But while you can totally get away with manually finding, downloading, and playing a podcast, there are a number of purpose-built apps (known as podcatchers) that now do the heavy lifting for you. Here are just a few of the more popular options:
Pocket Cast: Pocket Cast 4 from ShiftyJelly is among the most popular of all podcatchers and it's easy to see why. For one, the $4 app refreshes content on the server side to minimize the amount of time you'll wait for the content to download and play. What's more, it offers cloud syncing (even between Android and iOS devices), an expansive library of available content covering thousands of subjects, homescreen control widget, RSS feed importing, and even offers Chromecast support. It's available for both iOS and Android.
BeyondPod: If you're looking for more obscure subject matters and shows, BeyondPod has you covered. The combination RSS reader and player supports both audio and video content as well as Chromecast streaming, which allows you to listen to shows on your home theater system rather than your mobile device's tinny speakers. This Android-only app is a bit pricey at $7 but does offer a one-week trial of the product (with all of its features unlocked) before you have to pay. There are different versions optimized for both your Android phone and tablet, so make sure that you download the right one for your device.
TuneIn: TuneIn radio is another wildly popular podcatcher that offers a huge mix of content—from obscure podcasts to local and national radio station feeds—with an easy and intuitive UI. The free version, available for Android and iOS, only allows you to stream content through the device; you'll have to fork over $10 for the Pro version to get local download (and offline playback) capabilities. Still, that's less expensive than paying for Wi-Fi on a cross country flight.
Podcasts: iOS users actually don't need to download a standalone app at all seeing as how the platform comes with a native podcatcher, Podcasts, preinstalled. It's everything you'd expect from an Apple product: intuitive functionality; a flat, iOS 7-inspired UI; and a hefty selection of content to choose from. It's a bit limited in many respects, but it's certainly easier than trying to manage your feeds through iTunes and sync them to your iPod.
Instacast: If you want a more robust iOS-based podcatcher than what comes pre-loaded, check out Instacast. It too leverages a minimalist iOS 7 aesthetic but offers much more granular control over your feeds and how you consume, them including a very slick "Unplayed" mode that will automatically start the next episode so you don't have to fumble with your phone. Instacast will set you back just $2.
---
What Podcasts to Listen to
Now that you've chosen a podcatcher, it's time to start populating your playlist. Each app described above offers its own take on content search, discovery, and recommendations based on your personal tastes. But with an overwhelming supply of shows to check out, how do you even know where to start?
Here are a few of Gizmodo's favorite podcasts:
WTF with Marc Maron: It's Wayne's World but with a neurotic 50-something conducting long-form interviews with comic luminaries in his garage. Each hour-long show is unfairly entertaining—Maron's ability to engage with his guests and draw out details is uncanny—and quite often hilarious. Check out his recent interview with Wayne Campbell himself, Mike Myers.
Star Talk Radio with Neil deGrasse Tyson: Take equal parts popular science and comedy, add one Director of the Hayden Planetarium, and mix well. What you get is an insightful, educational, and downright entertaining look at the universe around us.
Eric Limer:
The Giant Bombcast: A great (and super long, 3+ hour) weekly podcast about all things video games, garbage food, professional wrestling, and other assorted chaos. Really just a great group of personalities who GENERALLY talk about video games and do it pretty smartly

Comedy Bang Bang: A fantastic interview show. Like Marc Maron's WTF except with improv from some really fantastic fictional guests. It's hard to describe, so just start here.

Judge John Hodgman: It's like The People's Court except funny instead of sad and with WAAAY more John Hodgman.