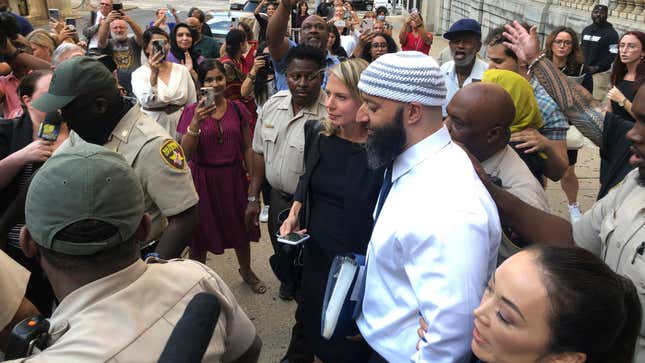 A Maryland Appellate Court ruled on Tuesday that Adnan Syed's murder case is being sent back to trial, citing that a lower court violated the murder victim's family's rights to attend the trial in person. Syed was convicted of murdering his high school girlfriend Hae Min Lee in 1999 and was sentenced to life in prison.
Rob Savage on Collaborating with YellowJackets' Sophie Thatcher
The podcast, Serial, brought new light to Syed's case when an investigative reporter proved there was room for reasonable doubt that he may have been wrongfully convicted. His case was sent to Maryland's Circuit Court after the Supreme Court declined to hear the case in 2019 and in September his conviction was overturned, allowing Syed to walk free.
Roughly six months after Syed was released from prison, the state's appellate court is bringing the case back to trial, saying Hae Min's brother Young Lee, who lives in California, was given only 24 hours' notice to attend the hearing in person. The appellate court announced Syed's conviction and sentence have been reinstated but he is not required to immediately return to prison.
According to the court ruling, "Allowing a victim entitled to attend a court proceeding to attend in person, when the victim makes that request and all other persons involved in the hearing appear in person, is consistent with the constitutional requirement that victims be treated with dignity and respect."
Adam Ruther, a partner at Rosenberg Martin Greenberg, LLP said in a phone call to Gizmodo that Maryland's Appellate Court gave Syed a 60-day stay on enforcement which will give his attorneys time to bring the case to the Maryland Supreme Court if they decide to do so. The Supreme Court has the final say on all trial decisions but is not required to hear the case, and if it chooses not to, the 60-day stay would expire and Syed could be required to turn himself back into prison.
The court said in the filing that it has the "power and obligation to remedy" the violation against Hae-Min's family, adding the caveat, "as long we can do so without violating Mr. Syed's right to be free from double jeopardy."
Ruther clarified that double jeopardy does not apply in this case, stating that there is a distinction between when he was originally convicted versus his conviction being overturned. "Here all the circuit court did was decide that based on the information there was an error in the way his original trial was conducted," Ruther said. "So under these circumstances, double jeopardy doesn't apply."
He said the court decided to reinforce Syed's conviction because the law was broken by not giving Young notice. "When [the circuit court] vacated the conviction, they didn't let [Young] be heard, and to be clear that's all they're saying has to happen. We have a law and didn't give Hae Min's brother the opportunity to be heard," Ruther said.
Although the case is going back to court so Young has the opportunity to attend and speak in person, it unknown at this point whether Syed could have to go back to prison.