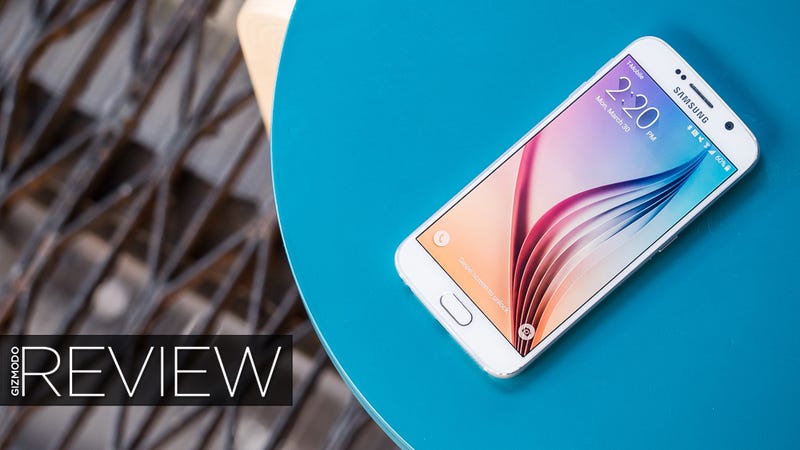 Remember the good old Samsung Galaxy S III? It was a fantastic little trooper, but we've come a long way since plastic phones were king. Today, the Galaxy S6 goes on sale—and it's finally, finally catching up with the iPhone, Nexii, and other glass-and-metal devices that have been catching your eye for years. It's stylish, it's solid. It's the whole package.

What Is It?
Samsung's new non-giant flagship phone. A drastic glass and metal redesign of the plastic handset that became one of the most ubiquitous Android phones out there. A 5.1-inch stunner with a 577 PPI, 2560 x 1440 AMOLED screen, Samsung's own Exynos 7420 processor, a great 16MP rear-facing camera, two forms of wireless charging, a non-removable 2550 mAh battery, and no microSD expansion. A smartphone that looks a whole lot, even suspiciously, like an iPhone—way more than the lineage of plastic phones that triggered an avalanche of lawsuits. It's uncannily familiar. It's also a pretty fantastic phone.
Oh, and it's a phone that comes in two variants, one with a curved screen. Read more about its counterpart, the Samsung Galaxy S6 Edge, right here.
Why Does It Matter?
Regardless of the Nexus phones and Moto X's that nerds like me (and maybe you?) fawn over, Samsung is Android to lots of people. Next time you're on a subway or a bus, just take a look around and you'll see what I mean. Samsung reached this incredible ubiquity not (just) through snarky ads but by making cheap phones that weren't total garbage. It's a strategy that pretty much topped out with the band-aid-esque and pretty relatively underwhelming Galaxy S5. With the S6 though, Samsung's offering something a bit more premium, and way more iPhoney.
If you're a diehard Samsung fan, the Galaxy S6 might actually push you into the waiting arms of another brand. But if you've been waiting for Samsung to finally figure out how to build a premium smartphone, this could be the moment you hop aboard the TouchWiz train.
Design
Beautiful and cohesive in a way a Samsung phone has never been before. No more fake leather, dimpled Band-Aid plastic or fake metal edges—the Galaxy S6 is all glass and aluminum. Previous Samsung phones tried to look premium, but there were always telltale signs that the Korean manufacturer had cheaped out in one way or another. The S6 nails it.
It looks great from all angles. The glass back feels and looks classy, the buttons feel great, the metal trim is lovely. On the one hand the Galaxy S6 design is not particularly unique or exciting, but on the other much more important hand, absolutely nothing about it sucks.
And yes, it looks like an iPhone. A lot like an iPhone! Enough so that my fiancée and I have confused my white S6 for her white iPhone at least a half-dozen times. It's only ever for a split second—after all, the S6 has a smaller button and different front facing speakers and a SAMSUNG logo—but with the same color and shape, the similarity is the first thing you'll notice.
But Samsung isn't (just) aping the iPhone's style here; there are some considered differences that make it better. Yes, the Galaxy S6 has a unibody aluminum frame which means no removable batteries, but the glass back gives it a sort of old-school premium feel like the Nexus 4 or iPhone 4 / 4S. It feels pretty fantastic.
Around the sides, the S6 has a rounded metal rim that's a little like the iPhone, but not entirely. Instead of being fully rounded, it actually plateaus a bit, which does wonders to make this thing easy to hold and settle into your hand. The iPhone 6's full rounded edges make it feel like it could pop out of your hand like a bar of soap if you really gave it a death grip. And the S6 doesn't suffer from that.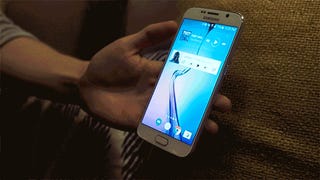 Still, that doesn't necessarily mean you won't drop it. That glass back can be pretty slippery! The second you try to hold the S6 in any sort of open-handed way—which is to say just letting it lay on your hand without exerting pressure on the sides—it'll slowly slip until you (hopefully!) catch it on the protruding camera. That's not the end of the world, but it can be annoying!
But as for shatters and scratches, I've seen none of either yet. I've kept the S6 in the same pocket as my keys (heresy! I know!) but all i've managed is cosmetic scratches on the home button. When I got a little more, ahem, deliberate, the Gorilla Glass 4 back withstood considerable pressure from my keys and the tip of my pocket knife unscathed. As for drops, it's survived a handful of three-foot falls from hand to hardwood and tile floor, and more aggressive tests suggest it can take much more.
The S6's screen is eye-poppingly good, but at ludicrous 577 pixels per inch (the iPhone 6 has 401, and the Note 4 has 518) it's reaching the point where it mostly doesn't matter. Yes, the screen is crispy as hell, but not like it's soul-rendingly better than other phones that creep up on the same ~500 territory. The only point at which this starts to matter is if you strap this thing to your face. Gear VR, Samsung's phone-based virtual reality headset that's soon to be revamped for use with the S6 and Galaxy Edge, actually makes use of that extra resolution.