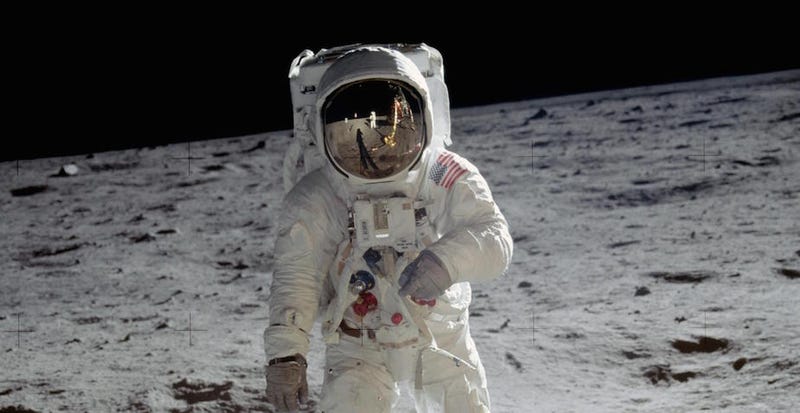 The internet was all abuzz today over newly-declassified tape of Apollo 10 astronauts catching a broadcast of alien music on the Moon. Except the tape was not classified, not alien, and not music. Settle in and take a listen for yourself.

Apple violated federal antitrust law in a conspiracy with five book publishers to fix ebook prices, according to the 2nd U.S. Circuit Court of Appeals. The court ended a long-running legal battle with a big blow to Apple, calling its ebooks price-fixing scheme "the supreme evil of antitrust."

As is true with almost any spacefaring mission, conspiracy theorists are eager to deconstruct and point out the LIES! our government space agencies are telling us, and of course, the ESA's recently successful Philae mission is no exception. But I've got to say, this conspiracy tale would make a great book.
Tablet Magazine recently published a revealing report exposing the "real people" that call into radio shows. According to Tablet, those real people aren't real at all. Instead, they're paid actors. Hired guns. Fake. I knew those amazing stories that spur great conversation and make for awesome programming was too good…
I don't know if it's the same-y hardware, the absurd expectations, or general inconsistencies, but something about the Google Phone just feels...off. And depending on how credulous you're feeling today, I can explain: We've been tricked! By Apple! Or something.
Chi Mei Optoelectronics, a major LCD maker who sells to companies including Apple, HP and Dell, has admitted to a wide-scale price fixing conspiracy between late 2001 and late 2006. The details are being kept under wraps, but Chi Mei has pled guilty to the charges in a San Francisco court, and in addition to the…
The Climate Research Unit at the University of East Anglia keeps some of the most accurate climate records which are key to many climate change debates. Its email archives were hacked, and now it's the center of another conspiracy claim.
Six people total were arrested today for making too much money too easily, among them executives from IBM and Intel. These guys made $20 million in profits between January and July 2007 by passing insider info regarding Google, Hilton Hotels and Polycom onto a trader. Now they're all facing multiple counts of…
We guess some technology is just too bad to be true. Because despite being approved by the FDA back in 2005, RFID chips were shown to cause animal tumors—in a number of studies—back in the mid 90s. So are the studies bunk? Not necessarily, because the AP has consulted "leading cancer specialists" who feel the findings…