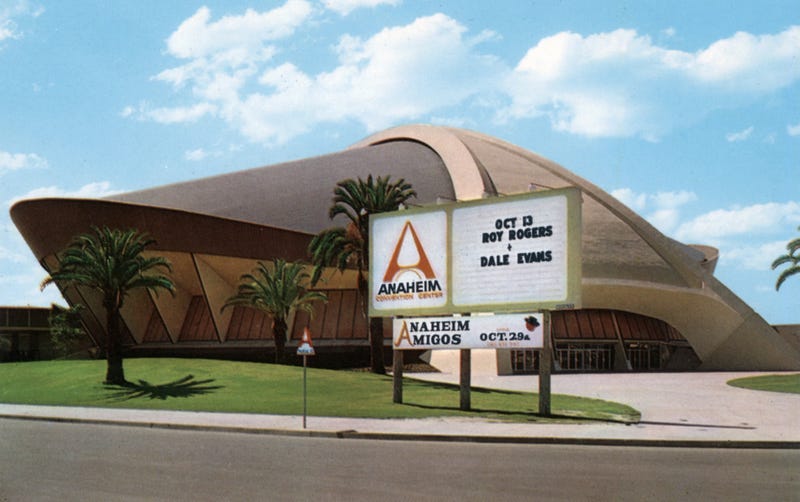 Had one of Tomorrowland's flying saucers gone missing? When the Anaheim Convention Center's arena opened in the summer of 1967, it looked as if a spacecraft from another world had touched down directly opposite Katella Avenue from Disneyland.
How could the Angels call any place but Los Angeles their home? After all, the club's name directly referred to the city, and there had been a team named the Los Angeles Angels since the first decade of the 20th Century, when the minor-league Los Angeles Looloos wisely opted for a more dignified nickname. So it's…
Rising conspicuously above the red-tile roofs and big-box stores of suburban Tustin, California, these two massive hangars stand as monuments to a lost age of aviation, built when lighter-than-air dirigibles held promise as the future of air travel—and air warfare.
Orange County, California, hardly lives up to its name1 anymore. A few relict orchards may survive, but today the endless citrus groves that once clothed the county in green are only a memory.
Can you blame the U.S. Geological Survey for having a bit of fun when when it mapped Disneyland?
The Southland's freeways hardly inspire optimism anymore. Glance at the shoulder of a slow-moving freeway and among the weeds you'll see shards of plastic and twisted metal—the accumulated detritus of a dozen high-speed crashes. They may (occasionally) be convenient, but whether it's their shabby appearance, the way…
The Orange County District Attorney has charged 18-year-old student Omar Khan with 69 felony counts—including identity theft, computer fraud, falsifying a public record, second degree burglary and watching Ferris Bueller's Day Off and War Games 5,405 times—after allegedly getting into Tesoro High School's computers to…