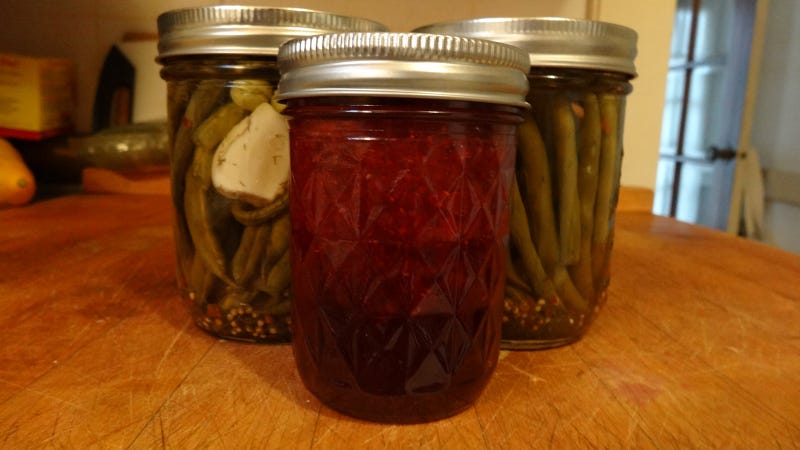 Winter is coming and you'd better be prepared. The delectably sweet fruits and vegetables in season right now will be shriveled husks rotting in your crisper drawer by the time the snows come. That is, unless you preserve or pickle them. Here's how to put the fruits of your home garden's labors into delicious stasis.
What Is Canning?
First, the basics. Canning is a method of preserving food by processing (read: bathing it in boiling water for a set amount of time) and sealing fresh foods in an airtight container. By cooking the food in a sealed glass jar, canning effectively sterilizes the bacteria that cause spoilage, which allows you to store the food for up to five years—far longer than it would keep in the fridge.
The two primary means of canning foods at home involve either boiling the preserved food, or boiling it under pressure, respectively known as the Water Bath and Pressure methods.
Water Bath
This method simply involves boiling, or "processing," the jars for a set period of time after they've been filled to kill off any bacteria present. For all high-acid foods—tomatoes, salsa, jellies, jams, fruits, anything with a pH below 4.6—a Water Bath will suffice, as the natural presence of acids help prevent bacterial growth.
Pressure
For low-acid foods like meats, vegetables (at least the one's you aren't pickling), and chili, you've got to make absolutely sure that all the bacteria are dead because botulism is only funny until it kills you. To do so, a pressure cooker will be needed to ensure the canned goods are properly sterilized.
About pickling: It's a subset of the Water Bath method that preserves food using a brine to anaerobically ferment the preserved food—this produces lactic acid which prevents spoilage—then storing it in acetic acid, better known as vinegar. Pickling is to canning as squares are to rectangles.
Hot vs Cold Packing
Many fresh fruits and vegetables contain up to 30 percent air. This can complicate the canning process, because the air trapped in sealed canning jars causes discoloration within two to three months, weakens the seal, and most importantly, takes up valuable jar space. For pickles and canning candidates of similar acidic intensity, the older cold-pack (or raw-pack) method—wherein the food is packed into the jars to be processed without being precooked— is sufficient. But with fruit and any acidic food not being stored in vinegar, you're going to want to use the hot-pack method.
Hot-packing is really just precooking the food—bring to a boil, simmer for 2-5 minutes—then dumping it into a canning jar for processing. Boiling the food allows the gasses trapped in it to escape, which is what you want. This shrinks the food's volume (requiring fewer jars), extends its shelf-life, prevents discoloration, and preserves the fresh taste.
If it sounds complicated, it's not so bad. The general rule of thumb is that any food that's processed by a Water Bath gets hot-packed. No pressure, no precooking.
Here are a couple of basic recipes to get you started. The underlying principles can be applied to pretty much anything you put in your mouth.
Tools: