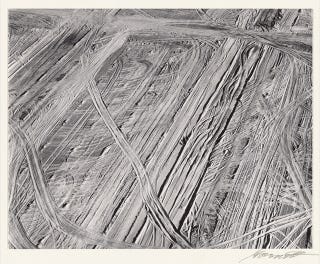 Science fiction is often charged with naïve technological optimism and historical amnesia. But for present-day Californians struggling with a wide range of environmental and social problems, science fiction might just provide the perspective we need to successfully pivot from the boom times of the twentieth century to the messy prospect of the century ahead. It won't be the techno-futurist elements of science fiction—miraculously clean energy sources, flying cars, off-planet factories—that are going to save us, though. The classic works of science fiction have a different, more fatalistic side that speaks more usefully to our current condition, awash as we are in the environmental and social consequences of the Golden State's postwar boom.
Even as they lived through and contributed to an era of unbridled technological optimism, the giants of postwar science fiction in California brooded not simply over the negative consequences of technology—a common anxiety in the Atomic Age—but also over deeper philosophical questions about what it means to be dependent on and even determined by the technologies that made life in postwar California possible.
In the works of three postwar California writers in particular—Ray Bradbury (1940s and 1950s), Robert Heinlein (1950s and 1960s), and Philip K. Dick (1960s and 1970s)—we can watch the rapid development of dams, aqueducts, interstate highways systems, suburban sprawl, and their consequences as they are digested in the speculative cultural form of science fiction. Bradbury dramatizes the personal difficulty of adjusting to the radical novelty of West Coast civilizations carved out of the desert. Heinlein is less haunted by the loss of tradition and more interested in the new political and economic possibilities created by the very artificiality of the postwar environment. And Dick—perhaps the most useful guide to our present—gives full expression to the uncanny sense of being lashed to the decrepit infrastructure of the past. It is this complex exposition of how it feels to be a creature of civic infrastructure—and not teleporters, psionic readers, and hyperdrives—that turns out to be the most prescient vision of California science fiction.
Postwar science fiction is to a surprising degree a phenomenon of the western United States. With a few notable exceptions, the major figures in the development of the genre's Golden Age and New Wave eras (together covering the late 1930s through the 1970s) all had significant biographical connections to the West—and this at a time when the western states accounted for a small fraction of the total US population (around 10 percent in 1930, rising to 17 percent in 1970). A.E. Van Vogt, Theodore Sturgeon, Ray Bradbury, Robert Heinlein, Philip K. Dick, Ursula K. Le Guin, and Kim Stanley Robinson are but the most celebrated of the hundreds of significant science fiction writers to live and work in California and the far West during this period.