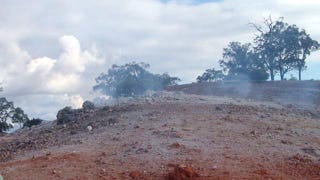 If you've heard of underground coal fires, then you've probably heard of the one raging under the abandoned town of Centralia, Pennsylvania, since 1962. Fifty-two years is a long time—and a lot of coal—but that's barely a blink compared to Burning Mountain in Australia, which has been ablaze for 6,000 years.
Coal seam fires are incredibly common, as it happens, and thousands of them are now burning underground across the world. A coal seam some 700 miles south of Australia's Burning Mountain caught fire a month ago, spewing poisonous gases and prompting intense firefighting efforts. Once an subterranean coal seam fire gets out of hand—as in Centralia, as in Burning Mountain—it's nearly impossible to put out.
The coal seam fire at Hazelwell Mine in Australia, which firefighters have been trying to put out for over a month. Credit: Country Fire Authority/Keith Pakenham
At Burning Mountain, also known as Mount Wingen, sulfur-tinged smoke is the only hint of a massive coal seam burning 70 feet under the ground. Heat and toxic gases from the fire have left it rocky and jagged in parts, and the land has caved in.
How the mountain was first set ablaze is a mystery. It could have been a lightning strike, forest fire, spontaneous combustion, or even aboriginal burning practices could even have been the initial spark.