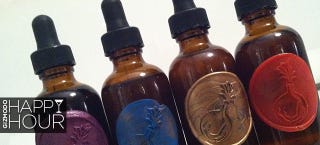 By day, Rachel Meyer is a plant evolutionary biologist researching crop genomics at NYU. But, by evening and weekend, she is on a mission to get more botany into your cocktail—and she's shared an exclusive new drink recipe with Gizmodo to show how.
It's Friday afternoon, you've made it through another long week, and it's time for Happy Hour, Gizmodo's weekly booze column, a cocktail shaker full of innovation, science, and alcohol. This week, it's time to upgrade your aperitif with delicious new bitters that come with a stealth side of ethnobotany—much more refreshing than it sounds.
"When you tell most people you're botanist," Meyer lamented, "they ask you for plant care tips or assume you grow weed."
FYI: apparently, botanists kill house plants and rely on dealers just like the rest of us. Their particular superpowers lie more in the area of collecting and cataloging plant varieties, as well as in recording the history of human-plant interaction: crop domestication, foraging patterns, and traditional uses.
All of which, Meyer realized, combined with standard lab skills, makes a botanist the perfect person to invent brand new cocktail bitters. Or, indeed, half a dozen. And so, a couple of years ago, Meyer partnered with two friends and fellow botanists, Selena Ahmed and Ashley Duval, to develop their own bitters company: Shoots and Roots Bitters.
Seasoning Your Cocktail
Bitters, for those of you who haven't been keeping an eye on the cocktail scene, are aromatic, powerful, and, yes, bitter-tasting botanical extracts.