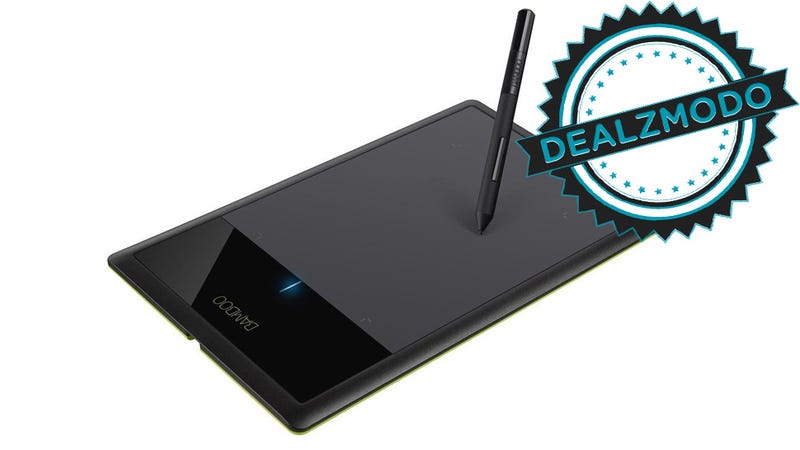 Whether you're just getting started making memes or you're a seasoned digital artist, adding a drawing tablet is the one of the easiest ways to gain more control over your creations. Right now there are two notable Wacom pen tablet deals for arty types looking to ditch the mouse.
Amazon's selling Wacom's lowest-end drawing tablet—the Wacom Bamboo Splash—for $53. Unlike more expensive tablets, this one doesn't have multitouch, but it is a perfect first tablet for someone looking to dabble in alternative forms of input. It's $70 or $80 other places. [Amazon]
If you're not the kind of person who gets the entry-level anything, you should check out Woot's tech deal today—they're selling a refurbished Wacom Bamboo Capture for $55 after shipping. Unlike the Splash, this tablet'll recognize your grubby fingers, so if you've just got to touch, this is probably the tablet for you. A new one's $80 at Amazon. [Woot]
Top Deals
• Wacom Bamboo Splash ($53) | Amazon | Normally $70
• Refurbished Wacom Bamboo Capture ($53) | Woot | Normally $80
Dealzmodo Exclusive! Handmade Watch Straps and Wallets Made From Cordovan Leather
A couple months ago I saw a huge thread on Reddit about some really slick leather watch straps. I reached out to the OP, and it turns out he makes them all by hand, which is a nice change of pace from the mass-produced stuff usually on Dealzmodo. Pretty sweet! I thought Dealzmodo readers would like a chance to snap them up—but only if they're at a discount.
Cloudy Sky Leatherworks has offered two codes to Dealzmodo readers: the code buy1get10 knocks 10% off any individual Cloudy Sky Leatherworks product, and the code buy2get20 doubles the discount if you buy two—like a wallet and a watch strap. Since they're all handmade, you get a bunch of slick customization options, and if yours breaks down on you—although it shouldn't, it's heavy-duty leather—there's a one-year warranty. Here's some more info if you wanna know more, and plus, because it's a American small business, it's easy to hit him up if you've got questions. [Cloudy Sky Leatherworks]
Accessories