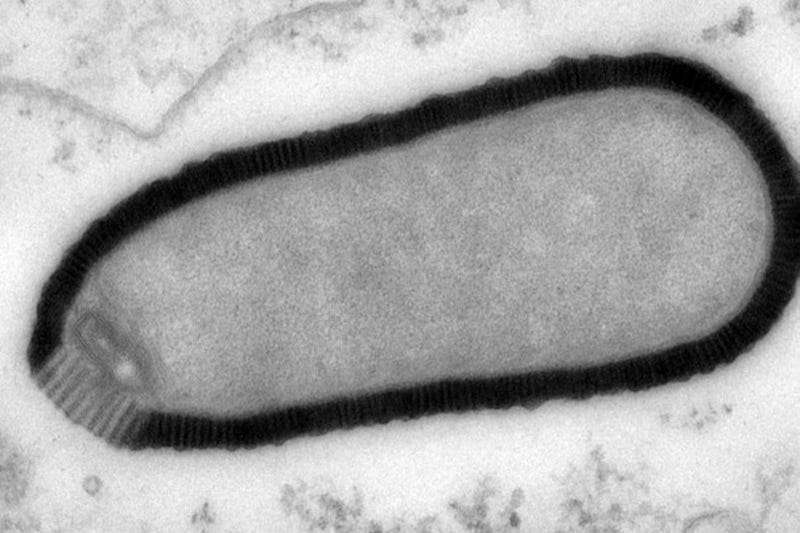 A monster virus comes back from ancient times to wreak havoc on mankind. That may sound like a blurb from a science fiction novel, but as scientists have known for some time, it's not at all impossible. And thanks to the recent revival of a 30,000-year-old giant virus in Siberia, there's increasing concern that it might describe our future.
But before you go diving into your hermetically sealed fallout shelters, it's important to note that, at least thus far, this and every other virus we've found sleeping deep beneath the surface hasn't been of any threat to mankind. So why's everybody talking about this discovery like it's the opening of the seventh seal? In proving that dormant viruses this ancient can, in fact, be revived, we've just opened up a Pandora's box of pandemic proportions.
A (Physically) Massive Menace
Biologists discovered this particular virus by using a common amoeba to lure it out from a core of Siberian permafrost that had been dated to nearly 30,000 years ago. It was, without question, the largest virus mankind has ever seen.
And this team, in particular, has seen quite a bit. This isn't the first giant virus discovery it's made. The group was also behind the discovery of the very first giant virus, Mimivirus, discovered in Chile about 10 years ago. They also found an even larger one, Pandoravirus, in 2011 from an entirely new family. And this newest one, Pithovirus, is a whole 50% larger than that.
But don't be too taken with the term "giant." As The LA Times notes:
"Giant" in virology is still pretty tiny. A virus of one micron in size, or a thousandth of a millimeter, is considered huge. That's big enough to be seen with a normal light microscope. The human immunodeficiency virus, or HIV, measures one tenth of a micron.
So it may be Godzilla next to your standard flu, but it's still wee microscopic devil. And in virus world, size isn't indicative of destructiveness.
A Sign of What's to Come
This discovery has also prompted the scientists to reexamine other drill core samples that might contain viruses that could potentially affect humans and other animals. Because fortunately for us, this new mega-virus is only dangerous to amoeba. But the mere fact that scientists were able to fully revive it from a dormant state is, according to the study's lead-author, microbiologist Jean-Michel Claverie of Aix-Marseille University in France, proof that "we could eventually resurrect active viruses from different periods."
Thankfully, any potentially harmful, still-living viruses we've found thus far haven't been ones that could impact humans. But that may not always be the case. According to the same scientists that uncovered that tobamovirus back in 1999, "Human beings have been more prevalent in northern areas for a long time and so human viruses are more likely to have been frozen into Northern Hemisphere ice sheets."
The fact that non-dangerous viruses exist has lead scientists to believe that more dangerous forms we'd thought had been eradicated—like smallpox—may still exist in dormant states under ice. Adding to this concern is the fact that Arctic regions are warming at a faster rate than more temperate areas of the globe. As populations grow and humans start moving to these newly warmed regions, we stand at at an increased risk of picking up what could initiate a global pandemic—and one to which we might have no resistance, at that.