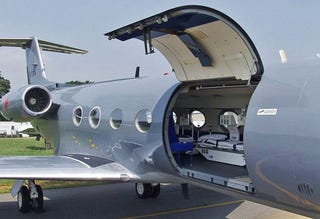 For months, the Ebola epidemic was a terrible problem isolated in Africa. Then news broke of two sick Americans being airlifted back for treatment, bringing Ebola to the U.S. for the first time ever. On purpose. Cue fear, cue outrage—all of it misplaced. It's going to be fine.
Of course, Ebola is very deadly if you do catch it; up to 90 percent of patients die from the illness. Aside from experimental vaccines and serums, there is no cure either. That's understandably scary, but the chances of Ebola spreading through the U.S.—with its modern hospitals and healthcare system—is so incredibly low that it's a near-impossibility.
Still worried? Okay, okay. Let's run through how Ebola spreads, and the technology we have to prevent it.
How to catch (or probably not catch) Ebola
Unlike even your run-of-the-mill flu virus, Ebola doesn't survive well outside of the body. It could only spread through direct contact with bodily fluids, usually blood or stool, which I don't know about you, but I tend to avoid already. Ebola is also not contagious during its incubation period, meaning you can only get sick from people who already appear to be sick. Granted, the symptoms are vague and flu-like, but the bottom line is as long as you avoid the wrong kind of contact with someone who's ill, you're in the clear.
That Ebola can only be transmitted this way means the people most at risk for contracting it are family members and caretakers of patients. Indeed, a number of doctors and nurses in Africa have gotten sick from caring for Ebola patients. In the U.S., however, we have the facilities and equipment to protect healthcare workers, so bringing over two patients poses minimal risk to everyone else.
How to fly an Ebola patient halfway around the world
As you might expect, the Ebola patients won't be coming home in coach. Earlier this week, the CDC's medical charter plane look off from Cartersville, Georgia bound for Liberia, where it'll retrieve the Americans. It's no ordinary jet. The Gulfstream is equipped with an Aeromedical Biological Containment System, a tent that isolates the patient from the rest of the flight crew. Here is what it looks like:
CDC
Our friends at Jalopnik have a great, in-depth breakdown of the plane if you're looking for a little more detail, but suffice it to say that it's about as safe a mode of transportation as you can find on land, sea, or air.