This month, many of us are trying to pound out a novel. The ultimate dream is to break into the publishing world with a debut that makes people sit up and take notice. And there's some good news on that front — some of science fiction and fantasy's most beloved writers have made a splash with their very first published novels.
Here are 10 science fiction or fantasy debut novels that made the world take notice.
Top image: Detail from cover of The Windup Girl, art by Raphael Lacoste
G/O Media may get a commission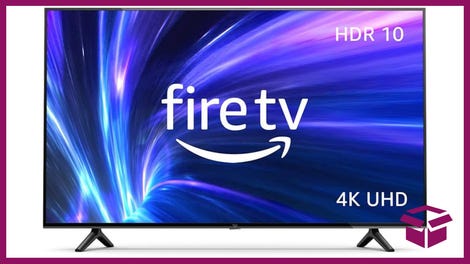 42% Off
Amazon Fire TV 50" 4K Smart TV
1) Frankenstein, or The Modern Prometheus by Mary Shelley
Year: 1818
What's it about: Victor Frankenstein discovers a way to bring inanimate bodies to life, and creates an eight-foot-tall monster which stalks him and brings death and devastation to everyone he loves. Finally he hunts it all the way to the Arctic circle. Shelley wrote this novel when she was just 18 years old.
Honors: No awards, although this novel became popular early on, and there were stage adaptations as early as 1826. And of course, there have been Frankenstein movies since the invention of cinema.
2) The Demolished Man by Alfred Bester
Year: 1953
What's it about: It's the 22nd century, and a lot of the population is telepathic, which makes it difficult for wealthy businessman Ben Reich to commit murder. A telepathic cop, Lincoln Powell, goes after him. (Read our review here.) Writes the Guardian, "Vivid descriptions of grungey post-apocalyptic brothels and cynically exploitative holiday planets wouldn't seem out of place in contemporary cyberpunk." Bester had actually given up on writing prose science fiction for ten years, writing instead for comics and radio serials, before he returned and published this novel.
Honors: The first ever Hugo Award for Best Novel. It was also a finalist for the International Fantasy Award.
3) Chthon by Piers Anthony
Year: 1967
What's it about: Anthony is mostly known for light, pun-fueled romps — but his debut is dark and weird as heck. Aton Five gets sentenced to imprisonment in the caverns of Chthon, because he committed the crime of falling in love with the forbidden Minionette. The novel is full of weird ideas like a flower that shows whether your loved one truly loves you back. Anthony had quit his day job to try writing fiction full time in 1962, while his wife, a computer programmer, supported them both — but it took him five years to achieve any success.
Honors: Nominated for the Nebula and the Hugo — it lost the Hugo to Zelazny's Lord of Light.
4) Hitchhiker's Guide to the Galaxy by Douglas Adams
Year: 1979
What's it about: Arthur Dent has a bad day — first his home is slated for demolition, then his home planet meets the same fate. Luckily, Arthur's friend Ford Prefect turns out to be a visiting alien, who whisks him off on a series of demented adventures.
Honors: It was already a radio series, and it's since become a stage play, a TV show, a movie, a computer game, and tons of other formats.
5) Neuromancer by William Gibson
Year: 1984
What's it about: Henry Dorsett Case is a former "console jockey" who's been left unable to interface with computers, thanks to a mycotoxin inflicted on him by his former employer. The mysterious Armitage offers Case a cure, in return for some work — but Armitage's job turns out to be highly illegal, and potentially world-changing.
Honors: The first novel to win the Hugo, the Nebula and the Philip K. Dick Award. It's been adapted in various weird ways, and a movie version, directed by Splice's Vincenzo Natali, is on the way.
6) The Cipher by Kathe Koja
Year: 1991
What's it about: A young down-and-out couple discovers a dark hole in the storage room in their apartment building. The "Funhole" swallows up whatever items they send down it, only to send them back up deformed and messed up. The fun really starts after they manage to send a camcorder down there, to record what's going on.
Honors: The Bram Stoker Award and the Locus Award, plus it was a Philip K. Dick Award finalist.
7) Sarah Canary by Karen Jay Fowler
Year: 1991
What's it about: A mysterious white woman arrives at a camp of Chinese railway workers in 1873, and one of them is chosen to lead her back to civilization, accompanied by a growing band of misfits who each see something different in the woman they call Sarah Canary, who never speaks but instead warbles like a canary. Fowler had decided to take a creative writing class after taking some dance classes and realizing "I wasn't going to make it as a dancer." Her first short story collection came out five years before her first novel.
Honors: It was a New York Times Notable Book and won the Commonwealth medal for best first novel by a Californian.
8) Harry Potter and the Philosopher's Stone by J.K. Rowling
Year: 1997
What's it about: There's this kid named Harry Potter, living with his obnoxious foster parents and their odious son, until he discovers he's actually secretly a wizard with a huge destiny. He goes off to the magical school of Hogwarts, where he has lots of amazing adventures. J.K. Rowling started work on this book in 1991, after her mother died, but didn't finish it until 1996 — and then even after she got an agent, it took a year to find a publisher.
Honors: The first Harry Potter book won a slew of Children's book awards in the U.K., and in the U.S. it was an American Library Association notable book, and one of the best books of 1998 according to Publishers Weekly and the New York Public Library. It was later made into a hugely successful film.
9) Jonathan Strange and Mr. Norrell by Susanna Clarke
Year: 2004
What's it about: Two men, Gilbert Norrell and his student Jonathan Strange, bring back magic to an England that has long since relegated it to academic study. But they become rivals, and among other things they summon the mercurial King of Faery, who has plans of his own. Lev Grossman wrote of this novel, "It is, I believe, the first fantasy masterpiece of the 21st century." Clarke spent ten years writing this novel.
Honors: The Hugo Award for Best Novel, plus it was longlisted for the Man Booker Prize.
10) The Windup Girl by Paolo Bacigalupi
Year: 2009
What's it about: Set in 23rd century Thailand after severe climate change, Windup Girl follows the interconnected stories of several people caught up in the machinations of the genomics industry. The titular "windup girl" is Emiko, a genetically engineered person who was abandoned by her former owner in Thailand, where genetically modified humans are illegal. We wrote in our review, "One of the strengths of The Windup Girl, other than its intriguing characters, is Bacigalupi's world building. You can practically taste this future Thailand he's built, especially when Anderson discovers a newly-engineered fruit in the marketplace and tries to figure out what genes went into its construction." The Windup Girl was actually Bacigalupi's fifth novel — he wrote four others, which were all rejected and have never been published. After those four books, he told an interviewer he "pretty much gave up on the idea of being a novelist."
Honors: Hugo and Nebula Awards for Best Novel, plus a Locus Award and a Compton Crook Award. Time Magazine named it one of the 10 best novels of 2009.
Additional reporting by Gordon Jackson.