You may or may not be lining up for Snow Leopard today, but enthusiasm barely matters. Eventually, all Mac users will learn to live with it (or a successor). But what did the critics think, just for the record?
Is AI Moving Too Fast? | Future Tech
NYTimes
"...the haters online deride Snow Leopard as a "service pack" - nothing more than a bug-fix/security-patch update like the ones Microsoft periodically releases for Windows. That's a pretty uninformed wisecrack."
Chicago Sun-Times
"OpenCL and Grand Central Dispatch are features that will speed up every existing app to a certain degree, by virtue of the fact that apps rely on OS routines; naturally, Snow Leopard itself takes full advantage of both technologies. But expect to see more serious performance gains as developers begin to fine-tune their apps for 10.6."
Macworld
"System Preferences is also where you'll see the ugliest evidence of Apple's conversion to 64-bit applications throughout the system...if you click on a third-party preference pane that hasn't yet been upgraded to a 64-bit version, System Preferences will tell you that it has to quit and reopen itself in 32-bit mode in order to open that preference pane...it gets frustrating..."
G/O Media may get a commission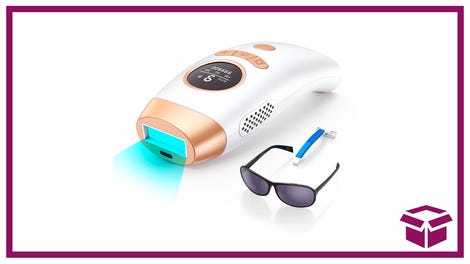 58% Off + Coupon
IPL Hair Removal Device
Wall Street Journal
"Commonly used third-party programs, like the Mac versions of Microsoft Office, the Firefox browser, and Adobe Reader, all worked fine in my tests after the upgrade. But a few things didn't. Apple admitted I had found a few bugs..."
Engadget
We were promised 6GB of storage savings with 10.6, and Apple more than delivered — we got anywhere from 10GB to a whopping 20GB back after installation.
Wired
"The most significant refinement to built-in software occurs in QuickTime, now dubbed QuickTime Player X. The player interface gets a makeover - a gray-and-black gradient (see screenshot at right). Other than that, there are new tools including movie recording from your webcam, audio recording from your microphone, and screencasting."
PCMag
"Among dozens of improvements to Snow Leopard's interface, one major standout is the enhanced Exposé feature. Exposé...Snow Leopard shows them in a better-organized grid-style layout, and adds a feature that displays reduced images of the windows open in only a single application instead of across every open application."
CNET
"Preview now lets you preview almost any file, even if it was created with software you don't have on your hard drive. This means common file types from Microsoft Excel, PowerPoint, and even PDF files can all be previewed without owning the programs they were created in. As an added bonus, Preview in Snow Leopard provides accurate text selection to multicolumn PDF files using artificial intelligence to infer the layout of each page."
PCWorld
"...with the release of iPhone 2.0 and now Snow Leopard, my views on Exchange have taken a 180-degree turn. If our IT department wants to move us to Exchange, I now say bring it on."
Gizmodo
"...speed optimizations are deep, reminding me of when a master martial artist puts the entirety of his weight behind a strike (while a neophyte would flails his limbs like a henchman in a Bruce Lee movie). The little UI tweaks are no different than when a great sculptor's chisel works to remove everything non-essential during the final steps on a statue. Challenging 30 years of ever more bloated software tradition, the changes here are about becoming a more effective middleware between the media and the hardware, reducing friction while becoming more useful by, well, being lighter, less visible."