Everyone with an iPhone or iPad has Calendar installed—there it is, right there on your home screen—but not everyone knows how to make the most of it. We've collected together 10 handy hints and hidden tricks you can use to power through your schedule and Calendar's various features in iOS 8.2.
1. Add events from emails
If you get an email into your inbox that mentions a specific date and time, you can instantly add it to your calendar, whether or not it's an official invitation: tap on the time inside the email and choose Create Event from the pop-up.
2. Override the local time zone
iOS automatically displays events in your local time, but you can use Time Zone Override (under Mail, Contacts, Calendars in Settings) to stick to a particular time zone. Handy when you're away from family or colleagues.
G/O Media may get a commission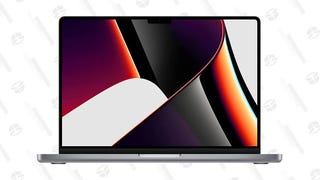 Save $300
2021 14" 1TB MacBook Pro
3. Use Siri for custom calendar views
You can tell Siri to "show me my calendar for today" and then change "today" for "tomorrow", "next week", "the next three days" or whatever you like. It's a quick and easy way of bringing up a customized view of your schedule.
4. Set up Family Sharing for a family schedule
If you've passed on Family Sharing in iOS 8 for iTunes movies and apps, you still might want to add it for schedules: Activating the feature (via iCloud in Settings) automatically creates a shared calendar for your family.
5. Quieten down some of your calendars
Since iOS 8 arrived on our screens, Apple has provided the option to disable alerts on a calendar-by-calendar basis. From the Calendars page, tap the i icon next to the calendar in question, then toggle the Event Alerts switch to off.
6. Subscribe to calendars — from your Mac
You can subscribe to all kinds of calendars, from sports events to seasonal holidays, but if you do this in iOS the events aren't synced anywhere else. Sign up on a Mac to use iCloud to sync the calendar to all your various devices.
7. Set event locations for travel advice
Making the effort to add locations to events means you'll get updates about travel times in the Notification Center. There's also a Travel Time option for each item on your schedule you can configure for more detailed alerts.
8. Drag-and-drop events
You might not realize this if you're always in portrait mode on an iPhone, but switch to landscape (or an iPad) and you can drag-and-drop events to a different time or day. It saves you having to delve into the event settings.
9. Schedule appointments to the minute
If your meeting starts at 9.48pm, then you want your calendar app to reflect that. By tapping on the start (or end) time selection panel, you can toggle between five-minute intervals and one-minute intervals as required.
10. Configure automatic alerts
You'll want to set different alerts for different events, but if there's a setting you use often—like a 5-minute buzz before your meetings—you can configure via Settings then Mail, Contacts, Calendars and Default Alert Times.