Three day weekends were made for booze, but there's a catch. Baseball games, parks, concerts, and bars: none of them allow you to bring in your own booze. We're not saying you should break the rules and bring clandestine beverages into such locations, but if you wanted to, here are some great ways to do it.
It's Friday afternoon, you've made it through the long week, and it's time for Happy Hour, Gizmodo's weekly booze column. A cocktail shaker full of innovation, science, and alcohol. Raise one for our fallen brothers and sisters.
---
Jello Cake
Let's start with an easy one that doesn't require any special equipment. Jello shots are great, but if you put them in little individual shot cups you're going to get caught. So here's what you do: Follow your normal jello shot recipe, but just pour it into a big, wide tupperware container. Once it solidifies, add a little whipped cream to the edges, and then with frosting write "Happy birthday, Christopher!" and draw a smiling toy car. If anyone asks you about it, you're meeting your nephew at the game (or concert, or whatever) and you made him a jello cake, which is his favorite thing. Then dig in with a spoon and try not to pass out before the 7th inning stretch. (Image credit: Shutterstock/pixshots)
G/O Media may get a commission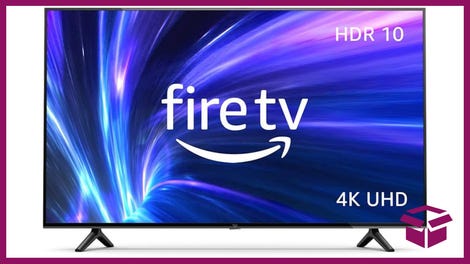 42% Off
Amazon Fire TV 50" 4K Smart TV
---
Beer Belly
When you want to bring in a lot of booze and you really, truly, deeply, profoundly don't care how you look, consider the Beer Belly. It fits a whopping 80 fluid ounces under your shirt, and a little Camelback-style hose pops out so you can drink directly from your gut (disturbing?). Personally, I wouldn't put anything carbonated in there, because you wouldn't be able to move without shaking it. The deluxe version comes with an ice pack to help keep it cool, but if it's pressed up into your chest, it's going to get warm anyway. Might as well just fill it up with 80 ounces of hard liquor and be everybody's best friend. (Also, Annelise who works there is a person, and not a chatbot.) $35
---
Wine Rack
Forget that this is a pun you want to hate but can't. The Wine Rack is made by the Beer Belly folks, except that it's for women, and instead of making you look fat and dumpy like the Beer Bell, it just gives you a large, booze-filled bosom. Sounds like a lovely combination to me. The Wine Rack can supposedly boost someone from a A-cup to double-Ds (with what I'm sure is a totally natural look), it can hold up to 750ml of your favorite beverage, and it has the same drinking hose as the beer belly so you don't have to take it off to enjoy it. Boobs + whiskey = marry me. Kathy Lee likes it, too. $30
---
Gummy Bears
Who could forget our second episode of Happy Hour, alcoholic gummy bears? You did? For shame. Not only are they tasty and innocent-looking, they pack a surprising wallop. They're also really easy to make. Basically just soak some gummy bears in vodka for three to five days in the fridge. Put 'em back in the bag, and close it tightly (because them things are gooey).
---
Sneaky Shorts
Another wearable concealer, but one that's designed to be a little more subtle. The Sneaky Shorts are basically a pair of Camelback-style bladders attached to a hip-belt. You can wear them under pants or shorts, and they have a little hose to fill up cups. They can hold up to 24 ounces, and hopefully they'll only give you a little bit of that "front-butt" look. $19
---
Can Covers
If you're going to a park—or anywhere they allow you to bring in cans, but no alcohol—these reusable labels might just do the trick. You simply slap them over your cans of beer to make them look like soda. Okay, if someone takes a close look at these, they will not pass muster—after all, "Skunkpiss" does not sound like a tasty, kid-friendly beverage—but from a distance, it'll do. $10 for a six pack.
---
Hammer Flask
Please Hammer, don't intoxicate 'em. I'll admit, I'm doubtful of the usefulness of this ruse. I mean, how many places are you going that wouldn't allow you to have booze but would allow you to have a hammer? It's for construction workers and handymen, I guess, which is unsettling. Anyway, this thing allows you to stash five ounces of booze in the handle, you can use the hammer head as an ice crusher, and it doubles as a bottle opener. It seems like a mix of conspicuous and impractical, but we appreciate the novelty. $17
---
Kooler Klub Golf Club Flask
Here's one for the booze-drinking golfers, which I kinda assume is all golfers. This ingenious fake-club system holds 48 ounces of your beverage of choice, and it's slim enough to fit in your golfbag . It's pump operated like a keg—you just pump it, press a button, and it pours your happy juice into a glass. And don't worry if you're a duffer; it's insulated well enough that cold or hot beverages keep their temperatures for up to five hours. This might actually get me to play golf (no it won't). $45
---
Otter Pops


Here's another from the Happy Hour archives. We call it The Drunken Boyscout. Simply take some ice pops (like Fla-Vor-Ice or Otter Pops), use a syringe to pull out some of the liquid, replace that liquid with booze, tape over the hole, and pop back in the freezer. They're really quite tasty. This trick works even better with juice boxes because you can get better-tasting juice and a larger volume. To get the right ratios, you're going to want to read the whole article here.
---
Sippin' Seat
This one's especially great for ballgames. Just a simple little cushion for my tuchus, Mr. Stadium Security guy! Inside that cushion, though, lurks 750ml of whatever, which you can sneakily dispense through the integrated hose. And yes, you can sit on it, as it's guaranteed to hold steady for folks up to 300 pounds. There are tons of color schemes to choose from, so if you can find your team's colors you can make it even more inconspicuous. Nice. $35
---
Smuggle Mug (coming soon)
The original Smuggle Mug was so popular that it's totally sold out. There's a new and improved version coming, but sadly it won't be ready until August 2012. Still, it deserves a place here because it's awesome: It's a mug with a hidden flask inside. The cool part is that you don't have to take it apart to transfer the hidden booze into the main mug—you just blow into it. So you fill it up with Coke, pretend to sip but actually blow, and boom: a delicious mixed drink. Genius. You can pre-order now. $23
---
THE REAL WHIZZINATOR-XXX
"No officer, I don't have any alcohol with me, I'm just pissing into this cup for later." The perfect excuse, right? Especially when it isn't piss, but gold tequila. The Real Whizzinator-XXX is really just made for cheating drug tests, but why not use it for sneaking booze in somewhere? Best of all, you can absolutely horrify your friends by doing a shot of what appears to be your own pee. Do the good times ever stop? They don't! Because the Wizzinator is "lifelike in its look & feel with the folds & texture of a real flaccid penis," and you can choose from 11 different colors! Joy overload! (Note: the Whizzinator appears to be Jewish. Maybe fill it with Manischewitz?) $100
Got more tricks? Drop 'em in the comments, and check back next Friday for more Happy Hour.
Image credit: Splash image: Shutterstock/Molodec