What good is a set of wheels on the bottom of your suitcase if somewhere between checking your bag and retrieving it from a luggage carousel one or two of them have been broken off? Your bags are actually harder to transport after that happens. But since standing spinner suitcases are just so convenient, Heys has introduced the first set of retractable wheels on its new Stealth that keeps them safe and out of the way while a bag is being handled
Each of the four spinner wheels, made from lightweight but strong aircraft aluminum, retract and collapse at the push of a red button into pockets on the bottom corners of the bag's polycarbonate shell. By remaining on the outside dirt and moisture isn't able to get into the bag, but the design ensures the wheels won't get caught or snagged on anything.
And besides ensuring that all four of the Stealth's wheels make it to your travel destination, the clever retracting design also allows the extra space usually allotted for a spinner suitcase's ground clearance to be used for additional storage—an extra 10 percent, in fact. If you're the type who's always cramming as much as they can into your luggage, that feature alone should have you lining up to buy one when they're finally available later this year.
G/O Media may get a commission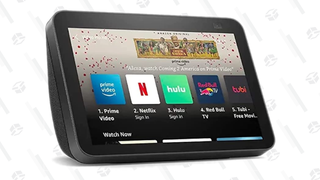 The stealth suitcases will range in price from $250 for the 21-inch model, to $350 for the 30-inch option, but you can also buy a three-piece set for $900 if you're a frequent traveler who just as frequently finds themselves replacing bags because airport handlers have been less than gentle. [Heys]