You never know with a handheld photograph. Will it be sharp? Or will it be a smear. But for this week's Shooting Challenge, we shared a simple trick to make sure your shots come out great, no matter the camera.
Winner: Wood Gate Bridge
This is my second time submitting, and after reading the challenge a few times I decided I wanted to try at least two methods. I shot pictures two different days. The first day I shot in (what I think) was a 1:1ratio. Day 2 was a 1:2 ratio. I walked from my apt to the GG Bridge and was on a bench watching the sunset and I realized this was kind of a cool framed picture off the bridge. f/18.0, ISO 100, and 1/15 (camera doesn't have1/18), Nikon D3100 with a 18-55mm lens.
- Matthew Singleton
Hampdenfest
One of the highlights each year of Baltimore's Hampdenfest street festival is their toilet races, a head-to-head go-kart competition where every racer is built around a toilet. I was able to grab a great seat on the curb, about halfway down the track, and to avoid too much motion blur, decided on shooting at 1/2xFL. It took me a while to get used to shooting my burst in a smooth pan as the racers went past (a lot of horrible framing and blurry images), but eventually I was able to dial it in and get three or four great shots of various karts. This picture came together perfectly, with the entire (long) racer in frame and the rider triumphantly pumping her fist in victory...even though the other kart she was facing was so much faster that he was completely out of frame by the time she came by. Nikon D5100, 30mm, 1/60, F/29, ISO 400.
- Cliff Burkholder
G/O Media may get a commission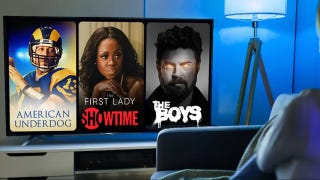 UNDER $1
99¢ Prime Video Channels
Striking Contrast
While walking through the Ludwigsburg, Germany Venetian festival this weekend I came across this costumed lady posing in front of one of the grandstands. I had my exposure set at about 1/FL with FL=125 (off just a bit at 127 - my zoom isn't precise). The side of the grandstand she was standing by had a black curtain, so the contrast was really striking. She gave me just a couple of quick playful poses and moved on, so no time to prep! In this case I think the 1/FL worked really well - thanks for the tip! Canon EOS 7D, f/8, ISO-1000
1/125 sec, 127mm focal length, Canon 28-135mm zoom lens
- Kent Waller
Novak Djokovic
I had never heard of the 1/2x focal length rule until this challenge and it came at the perfect time. I made my first trip to the US Open this weekend, and my tickets were in the nosebleeds so bringing a telephoto lens was a must. Given the distance from my seats to the players I was pretty much always shooting at 300mm, so I used the closest shutter speed to 1/600 my camera could do which ended up being 1/640. I chose a shot of Novak Djokovic serving since it showed the athleticism and concentration needed to hit 130ish mile per hour serves to within a few feet on the court! I got to see some great tennis and learned a new photography trick which made for a pretty good weekend! Canon T3, 1/640, f 5.6, Canon 75-300mm lens
- Ben Schwartzbach
Snowy Egret
FinePix S100FS — F4.8 — 1/320" — ISO100 — 74mm (300mm effective)
-Mike Case
Random Crap Gold Mine
I'm currently stationed in Camp Arifjan, Kuwait with the 316th Sustainment Command (Expeditionary). Camp Arifjan is a gold mine of random crap. There are a ton of container and material yards with things piled everywhere. On Friday afternoon we decided to run around the base and snap whatever pictures we could. We were stopped by base security a few times, but it didn't end up being a problem. I got this shot near a row of machines designed to pick up containers and move them from one place to another. They are huge pieces of equipment that take up the entire row. Nikon D300s, 17-35mm f/1.8 lens
- SFC Adam Stone
Space Fish
I'm not sure whether the fish is astonished or hungry. Astonished because I was trying to click it with a 70-200 mm (who does that? Its crazy!!) or hungry for "stars", just ready to gobble the whole world into darkness :-) Although this was a well lit aquarium with a yellow wall behind, trying to maintain minimum shooting distance + a shutterspeed of 1/2xFL resulted in these black background pics giving the impression that the fish is flying in a star spattered cosmos of its own! Canon 7D, EF 70-200 mm IS II at 200 mm and 1/400 s. Post processing- saturation & vibrance increase.
- Mari Sharma
I know this challenge wasn't necessarily inspirational to your creativity, but how often is it that you can learn a new camera technique that can make 90% of your shots more dependable? Thanks to everyone who participated. The full gallery is below, and the big shots are on flickr.