SanDisk's 128GB MicroSD card is still the largest you'll find from a reliable manufacturer, and you can grab one $20 off today. Needless to say, your GoPro or Android phone won't be pressed for space for a very long time. [SanDisk 128GB MicroSD Card, $100]
---
Paying a little up front for a great toothbrush is worth it if it helps you avoid cavities down the road. I've been using this Sonicare for years, and I always get compliments from my dentist. $10 off today with a coupon. [Sonicare Essence Toothbrush, $30 with $10 Coupon]
---
G/O Media may get a commission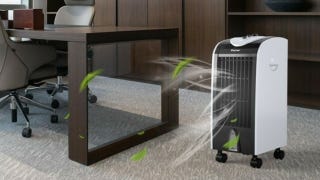 Save $10
Evaporative Portable Air Conditioner Cooler with Filter Knob
Refurb Chromebook deals are nothing new, but this one comes with built-in T-Mobile 4G, with two years of free service included (200MB/month). You also get a nice big screen that's great for watching movies. [Refurb HP Chromebook 14 with Free 4G, $225]
---
If you need a little more power from your laptop, eBay has $200 off a 13" MacBook Pro with Retina Display. This model includes an upgraded 256GB SSD, and 8GB of RAM. [MacBook Pro Retina, $1300]
---
These unbelievably-affordable Bluetooth headphones will only set you back $19 today, and feature 20 hours of playback time, a built-in mic, and even noise cancellation. [SoundBot Bluetooth Headphones, $19]
---
We've got several great phone deals today, including a Moto G for $50. This one will only work with Verizon prepaid plans, but you could just skip the cell plan altogether, and use it as a $50 Android version of the iPod Touch.
If you actually want to use your phone as a phone, we've also found an unlocked Moto X for $275, and a last-gen HTC One with 32GB of storage for $350.
Moto G [Verizon Prepaid] ($50) | Best Buy | No contract required. You could just use it on Wi-Fi as a cheap Android device.
HTC One M7 32GB [Unlocked] ($350) | eBay
Motorola MOTO X 16GB White GSM [Unlocked] ($275) | eBay
---
The Xbox One has had its problems, but the controller is not one of them. Now that you can officially use it on your PC, pick one up on Amazon for $10 off. [Xbox One Wireless Controller, $50]
---
If your iTunes balance is running dry, here's a nice chance to top it off. All you have to do is purchase two iTunes gift cards on Target, and one of them will receive a 30% discount. That's equivalent to a 15% discount overall, which is par for the course on iTunes deals. [Buy One iTunes Card, Get a Second 30% Off]
---
Come on, you know you want one of these. This Phantom includes a 720p camera, but you can of course attach your own GoPro, if you want some higher quality footage. [DJI Phantom, $435]
---
Whether you're using it as a TV, or a super-dense computer monitor, $399 for a 4K Seiki display is insane. [Seiki 39" 4K TV, $399]
---
Want a Playstation 4? Waiting for an E3 price drop that isn't coming? Waiting for a new bundle announced at E3, the possibility of which is 50-50 at best? Stop waiting and get $30 off a Playstation 4 today, plus no tax depending on your state and free shipping. [Playstation 4, $370]
---
There are a multitude of Amazon extensions out there, none of which we think very highly of, but here's one you can grab 5 bucks for installing (and immediately uninstalling thereafter). Amazon is offering $5 off the first $25+ purchase you make using their 1Button app before June 30. [1Button]
---
Microsoft's Touch Mouse is one of the best ways to interact with gesture-heavy Windows 8, and you can pick one up for just $16 today. [Microsoft Touch Mouse, $16]
---
This kettle will look fantastic in any kitchen, and it has great reviews to boot. It usually sells for over $90, but it's only $65 right now. [Bonavita Electric Kettle, $65]
---
If you need a new set of earbuds, here are a few good bets. The Sol Republics usually go for over $30, and while those Beats earbuds might be overpriced at $100, they're definitely worth considering at 40.
SOL REPUBLIC 1102–61 AMPS In-Ear Headphones with 1-Button Remote and Microphone ($23) | Amazon
Beats By Dr.Dre Beats Tour In-Ear Headphones ($40) | eBay
---
The OM-D E-M5 is getting a little long in the tooth, but at $800, it's a fantastic value for Micro 4/3 lovers. If you already have a M4/3 camera that you like, there are also several lenses on sale today. [Olympus OM-D E-M5, $800]
Olympus M. Zuiko Digital ED 45mm f1.8 (Black) Lens for Olympus and Panasonic Micro 4/3 Cameras ($349) | Amazon
Olympus M. Zuiko Digital ED 12mm f/2.0 Lens for Micro Four Thirds Cameras ($699) | Amazon
Olympus M Zuiko Digital ED 12-40mm f/2.8 Pro Interchangeable Lens ($899) | Amazon
---
If you've been meaning to pick up a Chromecast, Amazon has it for $5 off again right now. [Google Chromecast, $30]
---
Storage
Power
Headphones
Home Theater
TVs and Projectors
Sound and Accessories
Computers
Displays
Input
Networking
Printers
Phones and Tablets
Photography
Apps
iOS
Android
Movies and TV
Television
Books
Gaming
Apparel
Home
Kitchen
Inventory
---
This post is brought to you by the Commerce Team, a dedicated group of deal hunters and product enthusiasts. We operate independently of Editorial to bring you the best bargains every day, share our favorite products with you, and ask you about yours. When you buy something we recommend, we may also get a small share of the sale. We welcome your questions and want your feedback.