This may be the best era for original anthologies since the days of Dangerous Visions. Jonathan Strahan announced the final list of contributors for Eclipse 3, and it's made of want. Other anthologies promise down-and-dirty werewolves, and stellar flash fiction.
We were blown away by the second volume of Strahan's Eclipse series, not least because of Ted Chiang's Hugo-winning story "Exhalation." (At WisCon, I'm afraid I cornered Chiang and babbled inanely at him for five minutes about how great that story was.) But the table of contents for volume three actually sounds even more fantastic:
The Pelican Bar, Karen Joy Fowler
Lotion, Ellen Klages
Don't Mention Madagascar, Pat Cadigan
On the Road, Nnedi Okorafor
Swell, Elizabeth Bear
Useless Things, Maureen F. McHugh
The Coral Heart, Jeffrey Ford
It Takes Two, Nicola Griffith
Sleight of Hand, Peter S. Beagle
The Pretender's Tourney, Daniel Abraham
Yes We Have No Bananas, Paul Di Filippo
Mesopotamian Fire, Jane Yolen & Adam Stemple
The Visited Man, Molly Gloss
Galápagos, Caitlín R. Kiernan
Dolce Domum, Ellen Kushner
That's a pretty incredible list of names right there. And yes, there do happen to be a lot of women on that list, including Karen Joy Fowler and Nicola Griffith — two authors we were just imploring to come back to science fiction.
G/O Media may get a commission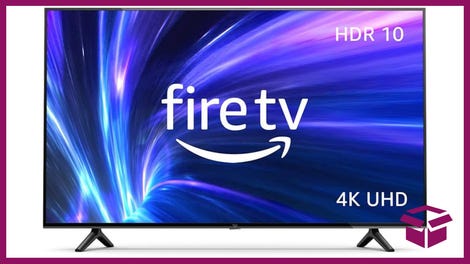 42% Off
Amazon Fire TV 50" 4K Smart TV
Meanwhile, io9 contributors Jeff and Ann VanderMeer announced the table of contents for Last Drink Bird Head, their new anthology of flash fiction raising money for literacy charities, which will be available in time for the World Fantasy Convention. And befitting a book of flash fiction, there's a huge list of contributors, but it includes Gene Wolfe, Leslie What, Keith Brooke, Paul Di Filippo, Caitlín R. Kiernan, Tanith Lee, Jay Lake, and many others.
And finally, if you're tired of anthologies about vampires or zombies, then rejoice! Ekaterina Sedia, author of the masterful Alchemy Of Stone, is putting out an anthology of werewolf tales called Running With The Pack.
Here's the back cover blurb:
Remember the werewolves of old stories and films, those bloodthirsty monsters that transformed under the full moon, reminding us of the terrible nature that lives within all of us? Today's werewolves are much more suave and even sexy, and they moved from British moors to New York City lofts, shaved, and got jobs. But as the tales of these writers will show you, they remained no less wild and passionate, and they still tug at the part of our being where a wild animal used to be. RUNNING WITH THE PACK includes stories from Carrie Vaughn, Laura Anne Gilman and C.E. Murphy, and they will convince you that despite their newfound gentility, werewolves remain as fascinating and terrifying as ever.