Germany went blitzkrieg on the entire UN of soccer and took the 2014 World Cup. Here are your views of the festivities—ranging from your quiet kitchens to Brazil's insane parties.
WINNER: Before
At the FIFA Fan Fest in Sao Paulo, Brazil. Clint Dempsey scores the 2nd goal for USA against Portugal in the group stage, putting us into the lead. The crowd was insane and spirits soared higher than a bald eagle. Let's not talk about what happened a few minutes later.
Shot with: Olympus E-PM2 with kit 14-42mm lens F3.5, 1/80 ISO auto
- Tu Tran
---
Cover Stories
No one can doubt that the World Cup is a celebration of The Beautiful Game, but it should also be a celebration of the football related puns that grace America's Sports Sections every four years. We've had a lot of viewing parties at work, so it felt appropriate to capture an image where I've watched most of the games.
Taken with an iPhone 5s.
- Jade Dean
---
'Congratulations Germany!'
G/O Media may get a commission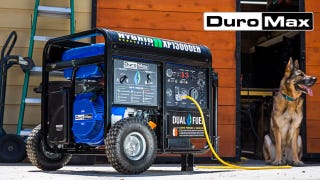 Black Friday Sale
DuroMax Generator Sale
OK, I am Brazilian and technically I should be upset with the German team... but I am not because there is something worse than losing to Germany (7x1 but just a reminder Brazil won the world cup 5 times), it would be more humiliating to see Argentina winning in Brazilian soil, no offense to Argentinian people, but when it comes to soccer I would rather say "don't cry for me Argentina".
Canon 70D, 1/100, f5/6, ISO400
- Alecio De Paula
---
Missed Shot
I was visiting friends in The Bay Area and my friends told me about a viewing of the Germany/Argentina Finals in front of the city capitol. I figured this might be a good spot to get some candids for the contest. I was biased towards pro Germany subjects because a) I was pro Germany and b) the German colors were much brighter than the Argentinian ones. It helped too that they won, just as I knew they would. This was about 3 minutes before the actual goal, at a missed shot on goal Germany made.
Nikon D5000, 135 mm, 1/1600 s, f/6.3, iso 400.
- Chris Thai
---
Everything But Painted Deodorant
This guy went all out on the body paint as well as singing and jumping throughout the whole match.
I used a Canon 60D.
- Emmanuel Felix
---
Front Row View
I took this photo on Thursday, June 12th, 2014. I was at the Rio De Janeiro Fan Fest on Copacabana Beach. In the middle of the crowd of people from all around the world, with all eyes on Neymar as the Brazilian national anthem played in the stadium before the match with Croatia. The picture tells the story, to me, of all of the fans in the crowd with eyes upon Neymar, and on the big screen, Neymar seems to have his eyes on the crowd as well.
I took this photo using my GoPro Hero Black 3+. The auto settings were at ISO 100, 3mm, f/2.8, 1/128.
- Omid Aminpour
---
Looking at World Cup photos, I'm always taken by how social the game is to watch. Even those who don't have tickets gather in massive crowds around screens seated so far away that they can't possibly offer a better view than a phone screen. Thanks to those who braved the crowds to snag a few shots.
The big images are on flickr.